Young woman throws a party for her birthday, but no one shows up - she celebrates alone with her husband
When the birthday arrives, we always try to organize something special to celebrate this special day. You think of a party, a menu and, above all, you try to spend a pleasant evening in the company of your loved ones. If, however, for various reasons the guests do not show up, how would you like it? We do not believe you would take it too well - and unfortunately, situations like this really do happen in people's lives.
The young woman we want to tell you about is also familiar with an event like this. Let's find out together what happened on her birthday: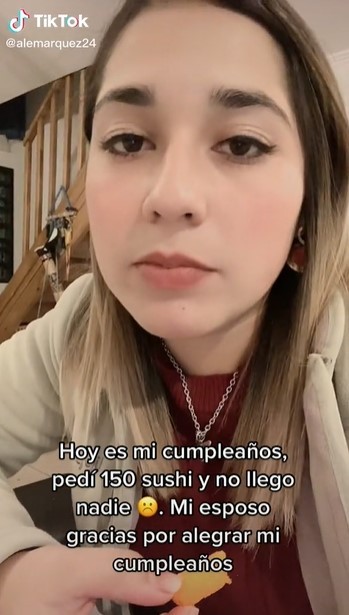 In a video posted on Tik Tok, Alejandra Márquez Alarcón, who lives in San Carlos in Chile, told her story about how her birthday party went. The woman had organized the celebration to spend a few happy hours with her friends and her husband. She had prepared a large spread and ordered about 150 pieces of sushi - but sadly, the evening did not go as planned.
After waiting for a while for her guests to arrive, Alejandra shot the clip in which she states: "Today is my birthday. I ordered sushi, but nobody came. I extended my thanks to my partner, who always tries to cheer me up." You read that right: no one showed up at the birthday girl's house to celebrate with her and she and her husband had to consume a large amount of Japanese food by themselves.
Alejandra, despite the sadness of the failure of the evening, wanted to thank her husband for staying by her side and supporting here. In 11 years of relationship, the two have always supported each other and this time was a clear example. In the images posted on the web, in fact, we see the husband who raises his arms to the sky in a festive way and tries to cheer up his partner.
This was a gesture that filled Alejandra's heart with joy and made her smile in the midst of her sorrow. Many users who have seen the video have also congratulated this husband and like the way he supports his wife. "Do not let that man escape," says one comment "My husband is enough for me to celebrate my birthday, nothing else is needed" states another comment; and Alejandra received many similiar comments hoping to cheer her up.
Has it ever happened to you that you organized a party but nobody came?