This mother continues to breastfeed her two children, aged 5 and 6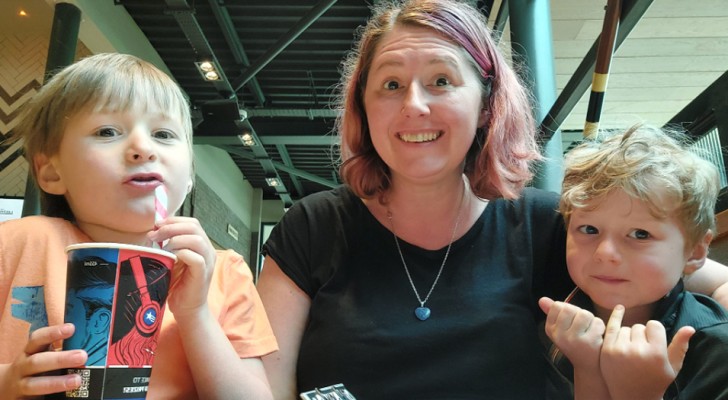 Advertisement
Breastfeeding is a very important action for the growth of a newborn, but it is equally important for the mother who will establish a strong bond with her baby through this activity. There are women who cannot breastfeed for medical reasons, but this does not prevent them from creating an indissoluble bond with their child anyway. Breast milk is a fundamental and nutritious food for a newborn, who usually partakes of it for up to 6 months; after 6 months, the baby's diet should be combined with solid foods. In general, breastfeeding can be continued up to 2 years of age, depending on the needs of the mother and baby, but it is rarely continued in the years that follow. That's why it is news that Sheryl Wynne continues to breastfeed her children, even though they are now 5 and 6 years old.
via Liverpool echo
Advertisement
This 39-year-old mom continues to breastfeed her two children, Riley and Mylo, aged 6 and 5, respectively. The woman admitted to receiving a lot of criticism and negative comments from friends and family, who wonder if this is why her children "behave like they do". For sure, it is unusual to breastfeed children who are this old, but Sheryl claims to be following her instincts and continues breastfeeding - even though she originally planned to stop when Riley, her eldest, turned 3 year old. But her own children played an important role in her decision to continue breastfeeding: one day Riley said he wanted to be breastfed for up to age of 10 years. Sheryl knows that she will not be able to do this for that long, but she has decided to continue for as long as she can: "It is their request and it is biologically normal to do so, even if it is not widespread (or acceptable) in society," Sheryl commented.
Advertisement
"The choice is not mine alone," Sheryl explained, "it is a shared choice, because it is something we do together. It has brought us closer together. It is special knowing that they can come to me and be comforted at any time," she concluded. The woman is fully aware that those mothers who do not breastfeed their children for 6 years can still establish a beautiful relationship with their children. Riley, the eldest son, knows he can't ask for breast milk while he's in public, while the youngest, Mylo, is more enterprising: "Before Mylo went to kindergarten, he asked for breast milk in the morning. While he was playing outside, however, I wanted to tell him that he couldn't breastfeed because people would see - but I didn't want to convey my fears to him. "
Sheryl had a traumatic time giving birth, after which she felt she was failing as a mother; but it was with the experience of breastfeeding that she was reborn and felt a lot better: "Breastfeeding helped me maintain a connection with my children and then I had the strong feeling and urge that I wanted to feed them both at the same time. It was magical and stimulating to feed two babies at the same time. I had a bad time giving birth to them and felt like a total failure because of that experience. I felt like I had let everyone down, so I needed breastfeeding to pull me through. When I started breastfeeding Riley, I knew it was the answer. It was a lot less difficult than I thought it would be. "
What do you think of this choice to breastfeed children for so long? Write it to us in the comments!
Advertisement