Mom talks about life with her 12 children: "I buy 5 boxes of cereal, 66 cartons of milk and 600 diapers a week"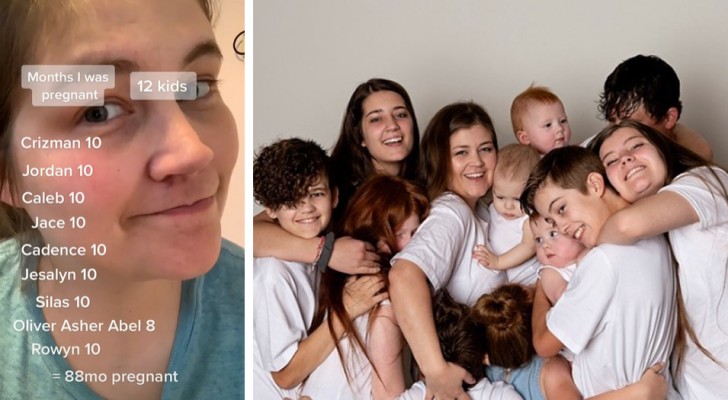 Advertisement
Choosing to have children or not is the right of every woman. Women should always feel free to make their own parenting choices. Britni Church has 12 children - all she ever wanted - albeit with two different men. This super mom is only 32 years old and she revealed in a video posted to TikTok that she has been pregnant for a total of 88 months in her life... that is, 7 years and 4 months! Not everyone has such a large family, which is why this mom has been harshly criticized. In reality, as she explained herself, her family is exactly like any other, only somewhat more numerous. It's not easy, sure, but if you ask her, she'd do it all again without hesitating!
via TikTok / ourlargefamilylife
Advertisement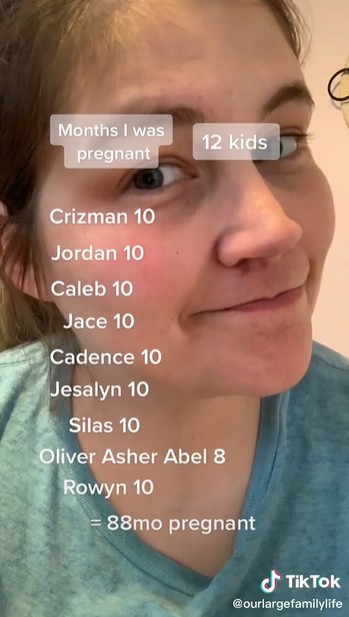 Although not particularly fond of pregnancy, Britni has become pregnant a dozen times, having had 12 full terms. She became pregnant for the first time at 16 years old, and she had her first child, Crizman, with her ex-husband. The two had four other children - who are all now teenagers - but the couple divorced in 2010. In 2012, after a period of rest and fun, she had another daughter, Jesalyn, who is now 8 years old. The young mother managed as a single parent for at least six years, before meeting Chris, her current husband in 2014. With him, Britni had 6 other children and this explains why, to date, she now has a total of 12 children. "I don't really like being pregnant, but I'd do it again if I had to. I love these guys so much," she enthused.
Despite her enthusiasm, Britni has been harshly criticized for giving birth to so many children and accused of living on government subsidies or other types of social security benefits. In fact, she herself claims to be part of a very normal family, "just like any other", albeit large, and reveals that her life as a full-time mom is not as hectic as one might think. Of course, their are significant challenges. For instance, she and Chris spends around £ 230 pounds ($ 290 dollars) a week on grocery shopping - including five boxes of cereal, 66 cartons of milk and 600 diapers.
Advertisement
Although she would like more children, Britni has now decided to "hold back": 12 children is a bunch and four of them are less than 3 years old - which in itself, is a great challenge. We can send our best wishes to this beautiful and large family!
Advertisement