Children aged 6 and 4 call for help for their dad: "They saved my life"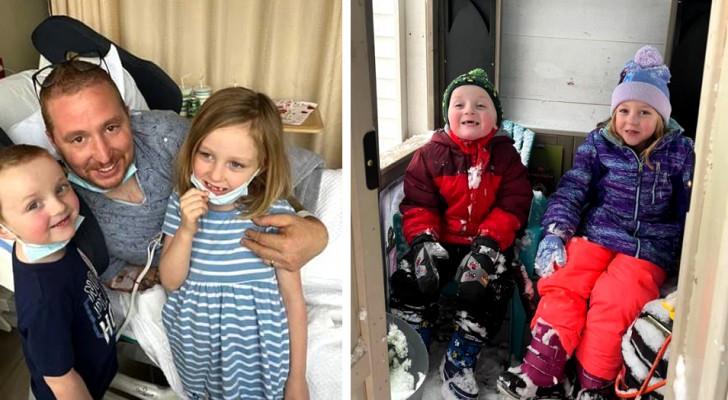 Advertisement
Being a parent isn't easy. When you decide to have a child, there are many things to think about and you have to start a new adventure from scratch. Beyond purely practical things, in the growth trajectory of a child, it is very important to reflect on the values ​​and education that you want to give them. What to teach them, what rules to set, what takes precedence, and how do you know when the time is right to give a particular life lesson? Many - perhaps too many - questions to which it is not always easy to give an immediate and definitive answer.
Certainly the father we are about to tell you about understood one thing from his parenting experience: it is essential to give your children, as soon as possible, some advice on how to act in an emergency. He personally experienced this and was able to confirm this fact. And indeed, despite their very young age, his two children helped him at a very difficult moment in his life. Here, we will tell you all about what these two little heroes did.
Advertisement
The location is in Eliot, Maine and the incident took place last April 12th and started with a classic child's complaint: Macie Semrau, a 6-year-old girl, didn't want to go to school that morning.
Since the child's refusal to go to school showed no signs of passing, her mother, Kate Semrau, she decided to let her stay at home. Together with her 4-year-old brother Caleb and her father, the little girl spent the morning without leaving the house and now, a few days later, everyone can say that this was indeed fortunate.
Advertisement
Kyle, a 37-year-old man and the father of the two children, was not feeling very well on the morning of April 12th. Nothing completely untoward happened at first, but after a while (and after his wife had left for work), Kyle's condition got worse. When he realized he needed help, the man started shouting, and Maine and Caleb immediately came to his aid.
While the 4-year-old stayed by his father's side and never left him on his own, his little daughter found a way to get Kyle's phone unlock code and contacted emergency services.
In no time, the police and an ambulance arrived at the house and Kyle was taken to the hospital. When he recovered, he said: "My 6-year-old girl knew how to use my cell phone and asked for help. I'm sure she saved my life." Even the policemen in the town have underlined and applauded the courage of the child in a situation that is not exactly the norm, especially when considering her age. In the post telling the story on the police department's Facebook page, they praised the little girl, saying: "Great job, Macie!"
We too join the chorus of applause and cannot help but praise these two little heroes who rose to the challenge to help their father and save him in his time of need. Great job, little ones!
Advertisement