53-year-old woman looks half her age thanks to a diet of 150 eggs and about 7 kg of sweet potatoes per month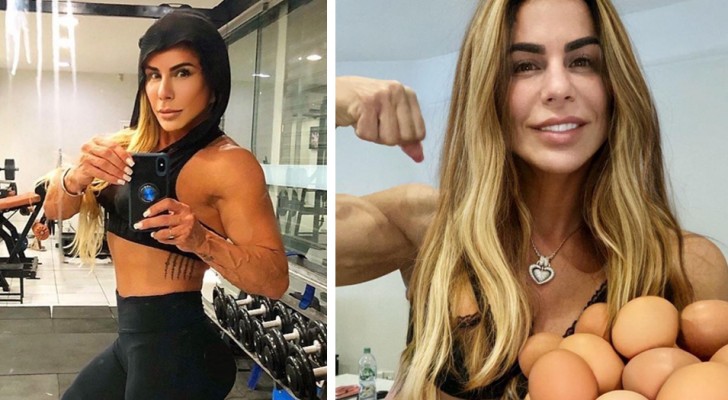 Advertisement
Eat healthy food and get plenty of physical exercise. Who knows how many times friends, relatives, acquaintances and, perhaps, even your doctor has given you this advice in response to the question: how can I get fit? Well, for sure, these are two fundamental aspects to consider to feel good and live a peaceful and serene life from the point of view of health. But what is meant by healthy eating and exercise? We know we can eat a lot of things, but which one is right for us? And what exercises should we do to act on the areas of our body that need the most attention.
Obviously, before starting a health and fitness program, it is always good to talk about it with a nutritionist and also with a personal trainer. And this is exactly what the woman we are about to tell you about did. Known on the web as the "Fitness Grandma", she has spoken on many occasions about what she does to have a "kicking" physique. Let's take a look at her story:
via The Sun
Advertisement
The famous "fitness grandmother" is actually Andréa Sunshinee, a woman who, at the age of 53, looks half her age. Don't believe it? Check out the photos here to confirm this bold claim.
The woman explained that to get a body shape like hers requires a great deal of commitment and perseverance. In fact, every day she trains in the gym for at least 3 hours and, at times, she has even stayed for up to 8 hours.
"They call me Grandma Fitness and it doesn't bother me. Everyone lives as they want, but being a grandmother does not necessarily mean spending my days at home devoted only to cleaning and taking care of the family. I don't deprive myself of things, and I love to keep fit. Everyone tells me that I look less than half my age and often much younger men ask me out," she said in an interview.
But can we be sure that it is only thanks to physical exercise that this woman manages to have such a well-sculpted body? Absolutely not. Andréa, in fact, said that a nutritionist gives her guidance. The woman has a specific diet to follow and she must be careful not to exceed the amount of calories she needs to consume each day: which is about 3500.
The thing that leaves one speechless, however, is mostly what she eats: 150 eggs and about 7 kilograms (16 pounds) of sweet potatoes a month. Yes, you read that right, and we are not kidding. She admits herself that it may sound strange or absurd, but her nutritionist has given her a dietary plan and she is not willing to do anything other than follow it - and especially with regard to the eggs which, as is well known, have a high protein content are an excellent nutrient for the body.
This woman - a grandmother of two beautiful children - is a living example that with a lot of sacrifice and effort, you can achieve your goals. Above all, she is proof of how anyone can manage multiple aspects of their life, and without giving up anything - even if you are a grandparent.
What do you think?