This little boy has uncombable hair syndrome (UHS): "We thought he just had curly hair!"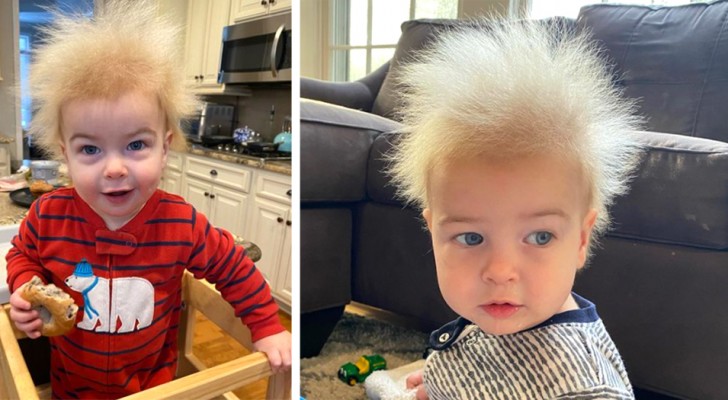 Advertisement
You surely know that when you wake up in the morning, your hair needs to be brushed properly and thoroughly? Well, there are people in the world who can't get their hair under control even using a brush. We are talking about those very rare cases in which a person is affected by "uncombable hair syndrome", also known as pili trianguli et canaliculi. The name of the syndrome sounds like a joke, but it's absolutely real and a child on Instagram is making headlines for having this very affliction.
His name is Locklan, he is 17 months old and has hair that if called "rebellious" would seem to be an understatement. His parents thought he was growing curly hair and therefore there was nothing strange, but then the bizarre discovery of the rare hair syndrome was made.
via Instagram / uncombable_locks
Advertisement
By uncombable hair syndrome, we refer to a rare structural anomaly of the hair that begins to manifest itself in children between 3 months and 12 years of age. Usually, with the arrival of adolescence the "rebellious" nature of the hair subsides and the symptoms of this syndrome reduce considerably.
Katelyn Samples and her husband Caleb had never heard of this syndrome and, to be honest, they believed their little Locklan was growing curly hair. But the boy's blond hair really seemed to have a life of its own - so much so that after sharing his photos on Instagram, a stranger posted a comment telling them the reality of the situation - their son had a real, rare affliction: uncombable hair syndrome (UHS). "One moment you are at peace, you just think that your son has curly hair, (which runs in the family), and then you discover that he actually has a rare syndrome - it was crazy," commented Locklan's mother, now a star on the internet.
UHS is a very rare syndrome indeed - so much so that, at the moment, only 100 cases have been reported worldwide. Locklan's photos on Instagram have certainly caught the attention of many, as it's really impossible to resist how comical he looks.
"Our message to everyone is to celebrate that which sets you apart from others and that makes you different. Our other goal is to inform the public about UHS and to be able to get more information about it out there," explained Locklan's mom.
Advertisement
Locklan will have his funny hair with him for a while, but when he is an adult, it will fade and only a funny memory will remain for him.