Mum can't afford to take her son to see the game; fans raise £ 6,000 pounds ($ 8,200 dollars) for them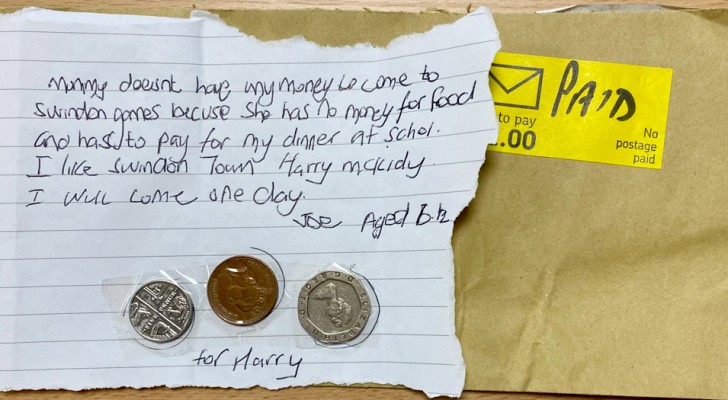 Advertisement
What would not be done to please a child and his family who are in need. This story happened recently in Swindon, in the United Kingdom, when the local football team - Swindon Town Football Club - received a bit of a surprise: a letter written by hand from a six-year-old boy named Joe. Joe wanted to get in touch with his favorite soccer player, Harry McKirdy, promising him that he would one day come to the stadium to see him play with his mother, but that at that moment he could not, due to his family's economic difficulties ..
via Daily Mail UK
Advertisement
The handwritten letter, sent to the official Swindon Town Football Club postbox, was published on the Facebook page of the sports association, making it around the web in no time. In the letter written by Joe (who is only six years old), there was also sellotaped 26 pence at the bottom of the letter (roughly equivalent to 35 American cents) to be given to the player Harry McKirdy. The handwritten words on the paper said: "My mother doesn't have the money to afford a ticket to the stadium, because she already has to pay for food and to allow me to use the school canteen, but I hope to come to Swindon one day and see you play, Harry McKirdy. Signed, Joe. "
The English Football Club published Joe's letter on Facebook, trying in every way they could to spread the word among the numerous fans and Facebook users on the web so that they could find out the full name and address of the 6-year-old boy and his mother, who are in obvious economic difficulties. For this reason, after the publication of the letter with the photograph of the handwritten letter, many Manchester United and Liverpool fans teamed up to raise money to donate to Joe and his family through a crowdfunding program ...
Advertisement
In the end, although Joe's last name and address have not yet been traced, the crowdfunding program set up by the British fans raised around £ 6,000 pounds, equivalent to practically 18 years of season tickets for the six-year-old and for his mother: "Let's all get together and finance Joe and his family so that they can participate in a game and that Joe gets to be the mascot of the day, giving him an experience that he will remember for a lifetime!", - this was the message posted on Facebook by the Swindon Town Football Club.
Dear Joe's mother, please get in touch as soon as possible - it seems that you will finally be able to take your son to the stadium to see his favorite player thanks to the great act of solidarity by these English fans!
Advertisement