A car blocks a farmer's driveway: he moves it with his tractor (+ VIDEO)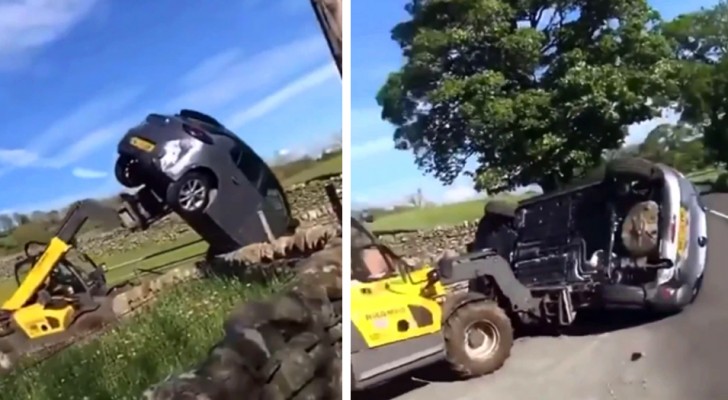 Advertisement
When someone invades our personal space, we naturally feel threatened. Imagine a farmer who sees two strangers invade his private property: 57-year-old Robert Hooper admitted he was afraid when two young men half his age entered his farm and, with their car, blocked his driveway, denying him access to his property. It was not the first time that the farmer had to face an intrusion of this nature, either. And since the two young men refused at his polite request for them to move the car, the farmer felt he had to remedy the situation by resorting to violence. Using his tractor, he overturned the obstructing car, pushing it off his driveway.
via Facebook
Advertisement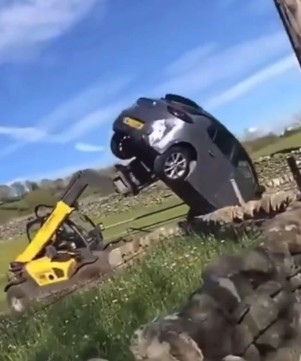 Robert Hooper had no time to waste that day: the day had just begun and it was going to be a very long and tiring one. When the farmer saw that a car was blocking his access on his own property, he asked the owners, two young, unknown men, to move it. The two refused and Robert, worried about who these strangers were and what they were up to, preferred to act on his own, removing the vehicle in his own unique way. "If you don't move it, I'll do it myself," Robert told the young driver. After the latter's negative response, Robert proceeded to remove the car with his tractor. In the footage that was posted to a Facebook group, a shirtless man is seen kicking the Robert's tractor as he overturns the intruders' car. It is clear that the owner of the car is very visibly angry.
Why did Robert act like this? Because he claimed he felt threatened: "I thought: 'There are two of them, they are half my age, I didn't know what they had in terms of weapons or what they were capable of doing. I assumed that if the car was off the property, then they would be gone too. I felt threatened. "
Advertisement
But why not call the police, then? The farmer pointed out that he has suffered 8 intrusions on his farm and that the police would have taken several hours before they could arrive to sort things out. That's why he preferred to act on his own, even though his actions have now caused him a few legal problems.
What would you have done in Robert's place?
Advertisement