A creative mom builds a miniature kitchen for her daughter from old cardboard boxes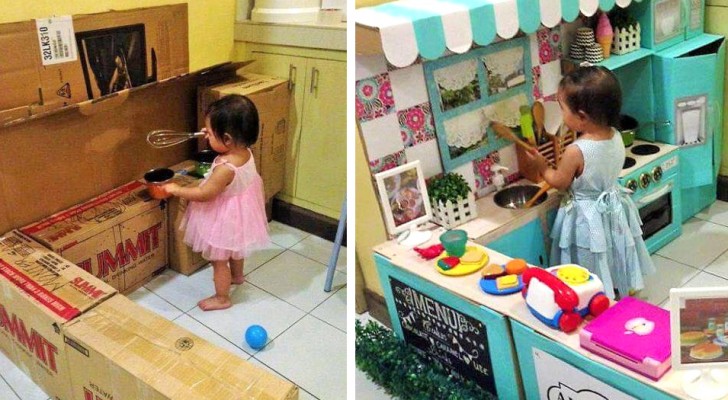 When you have children you have to take into account that there will be a lot of expenses, including of course, the cost for toys. It is normal for a child, or a grandchild, to always want to have a new toy. And it is also true that they will most likely get bored of the new toy quite quickly. Always, there should be a balance between satisfying the child's wants and not spoiling them. But how does one do this and how does one know how much to spend on toys? Taking a tour of the toy shops, you immediately realize what the average expense is and just how expensive toys can be. An ingenious mom, however, has found a great way not only to save money, but also to spend quality time with her child. Thanks to her skills in the field of DIY, she was able to build a miniature kitchen for her daughter.
The final project is truly amazing!
Advertisement
Almost everyone, when a child, wanted a kitchen in which to pretend to be grown up. It is not surprising, then, that many of the most popular games among the little ones are playing with a miniature copy of what adults use every day, for example: the vacuum cleaner, the kitchen, the oven, the iron...
Rodessa Villanueva-Reyes is an ingenious and creative mother and entrepreneur - so much so that she built an entire toy kitchen for her daughter, starting from a foundation of cardboard boxes. This is a DIY project that any parent with a little time and effort could do. Rodessa started by making the shapes of the wall units, appliances and everything else, so as to have a base from which to start.
To color and bring the designs and patterns to life, the mother used colored adhesive paper - mainly white and light blue.
Advertisement
In the end, this mom went even further and super-detailed the miniature kitchen, providing it with all the necessary utensils, sinks and flashy signs to put outside (when they pretend it is a coffee shop). To build the sink faucets, she used liquid soap dispensers, proving her great inventiveness and creativity. For the tiles, she used colored napkins.
Would you be able to do something like this for your children or grandchildren? Why not give it a try!