8-year-old hides the book he wrote on the library's shelves: now everyone wants to read it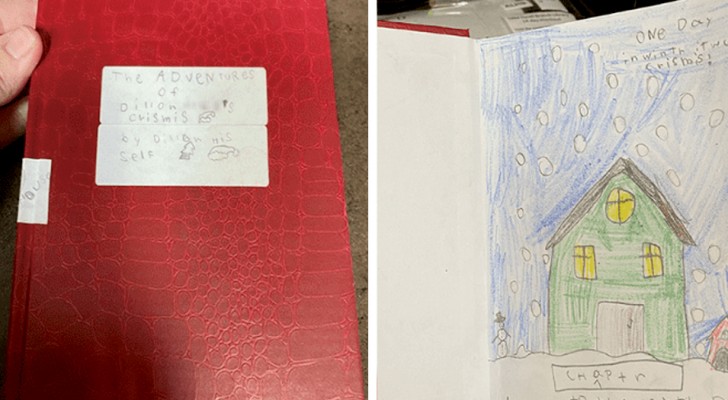 When you have a passion and a natural talent, you also often have the strength and perseverance to make sure that all those we love and who surround our life, to a greater or lesser extent, can benefit from our skills. Everyone in life needs approval and satisfaction - otherwise we would always feel incomplete, if not totally frustrated. To get out of this mental impasse, sometimes it takes just a pinch of courage and boldness. And this is one thing that the 8-year-old child who is the subject of this beautiful and very strange story, knows perfectly well ...
via KTVB
Advertisement
The name of this young boy is Dillon Helbig - he is 8 years old and attends the secondary grade in a school in Idaho, in the United States, and has always had an innate talent of knowing how to write and tell original and imaginative stories. One of his biggest dreams was one day to be able to complete a story by himself and have it put in the local library so that all the local citizens with library cards could lend his book and read his story. And this dream came true when Dillon's grandmother gave him a diary with a red cover and blank white pages inside to write and draw on. This diary was all the 8-year-old boy needed to write and illustrate a story which he would create in its entirety.
It took the little boy about three days to write and finish his 81-page story. And the perfect opportunity to get people to notice his passion and talent came when he went with his grandmother to visit the local Boise library. There, without being seen by anyone, he put his first literary masterpiece on the shelves of the library. After a few days, the boy informed his parents that he had put his book in the local library, so they called Alex Hartman, the head of the institute, and asked him to check if the book was still there. He reported that it was not...
Alex Hartman, however, knew very well that the book had been placed there specifically by Dillon, and he had seen him do it. Hartman had, in fact, taken the illustrated book - which he found to be amusing and entertaining - and officially registered it in the library records so that local citizens could borrow the book just like any other library book.
Advertisement
When Alex Hartman asked the Helbig family for permission to barcode the book and officially add it to the library's collection, the parents of the imaginative and talented 8-year-old boy answered in the affirmative with great enthusiasm. Now "The adventures of Dillon Helbig in Crismis" is part of the comics section for children and young readers and has already been checked out by 55 registered users of the library - users who were curious to read the first of perhaps many other masterpieces to come by Dillon Helbig.
Mom Susan said of her son: "His imagination is constantly on the move and he's a very creative kid. He just makes up these amazing stories and adventures, and we can't help but encourage him to continue to do so."
Could Dillon Helbig become a star author of children's literature in the future? We wish so, wholeheartedly!