Little dog comforts a grieving elderly man while he is waiting at the airport (+ VIDEO)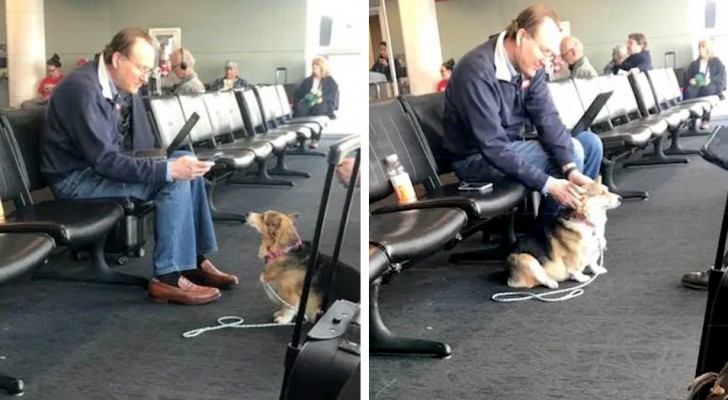 Who said that our four-legged friends have no feelings? Although they do not possess the gift of speech, they walk on all fours and they have tails, they are sentient, living beings capable of experiencing all the basic emotions that make them perfect companions for people who need unconditional love and affection. In fact, it is no coincidence that many dogs, for example, are trained to become "therapy animals", or companions that are full of empathy. They are ready to cuddle or entertain less fortunate people who may have been victims of a trauma, a serious loss, or are fighting their own private battle in a hospital bed.
via TODAY
Advertisement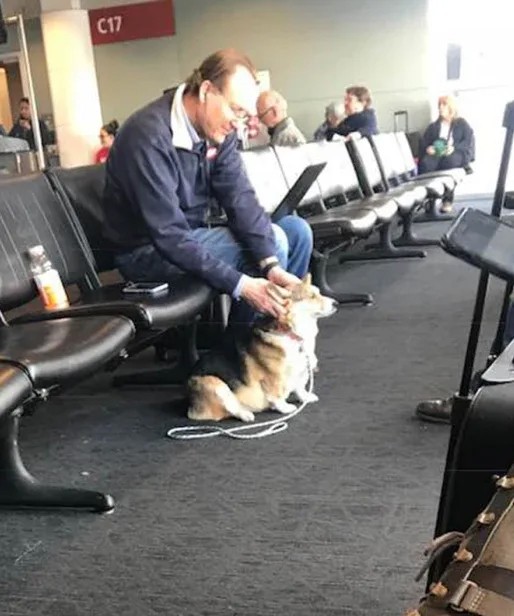 The little animal subject of this touching and very moving scene is a corgi dog named Cora, whose mistress Madison Hunting, wanted to capture a special moment of during her flight from Idaho to Alaska. Madison, a 23-year-old young woman, said she was taking a plane to get to her mother who lived in Alaska to celebrate Christmas holidays with her. To get to Alsaka, Madison had to make a transit stop at Seattle airport, and did so in the company of her faithful dog, Cora.
While waiting for the plane, the little Corgi dog, who is also a trained and qualified therapy dog, performed a very simple gesture of empathy and kindness towards an elderly passenger who was awaiting the departure of his plane. Madison later found out that the man had just attended a loved one's funeral and was grieving. Cora, sensing his sadness, went over to the man and encouraged him to pet and caress her.
This was a very simple and unexceptional gesture but it hides the depth of empathy and feelings that little Cora can feel towards people who are feeling sad or have experienced, or are experiencing, trauma. The short video was published by Madison Hunting herself. The video quickly went vira and reached hundreds of thousands of users who were genuinely moved by the simple gesture of empathy made by this very special therapy dog.
You were fantastic, Cora!