Elderly man frequents the same diner for many years: employees organize a party for his 104th birthday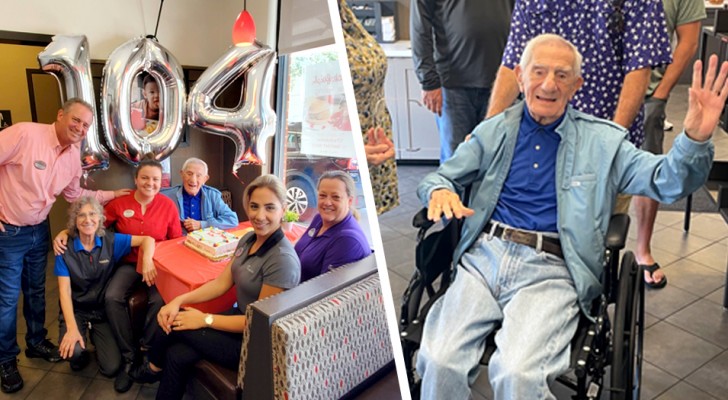 Advertisement
What does the word "family" really mean? There are people who, upon hearing it, immediately think of their parents, brothers or sisters and other relatives. But, in some cases, the family includes others. For sure, blood bonds are important and for many of us, our blood family is our anchor in life. In some cases, however, the concept of family is an extended one.
In fact, there are some people could become very important to us in our daily lives - so much so that we come to consider them an integral part of our "extended" family. This is what happened to the subject of this story and to the employees of the diner he frequented every day. Here is the story:
via Fox News
Advertisement
The story began at a Chick-fil-A in Florida, a diner that Steve Bellissimo - or Mr. Steve, as friends like to call him - frequented for about 20 years. Every day, this elderly gentleman goes to the diner, sits at the same table, always orders the same breakfast and loves to exchange a few words with the staff on duty.
The local employees love to stop and talk to Steve for a few moments too. Indeed, they have grown very fond of the elderly man - so much so that, since he turned 99, they have always organized a small party to honor him.
Advertisement
Steve's 100th birthday was a great event and all the staff celebrated it, posting photos of the event to the web. Year after year, this custom became habitual. And recently, Steve turned 104 years old. Once again, all the diner's staff helped him to celebrate in style.
"His daily visit are very important to us," said the diner's manager. He continued: "While we were celebrating his 104th birthday, we felt happy that we could do a little something for Steve. We had the opportunity to meet an wonderful person and we are sure that he is also happy about the bond he has created with all of us here at the diner".
The telling of this story has made Steve famous on the web. His fame precedes him now and he has become so famous that he was "hired" to star in the diner's commercial.
We wish Steve many more years of celebrating his birthdays with the wonderful staff at this diner.
Advertisement