She gives birth to three girls who are born on the same day, each exactly three years apart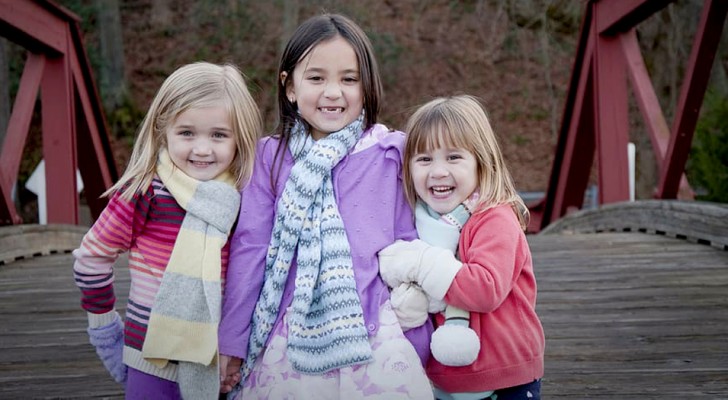 Advertisement
Are there coincidences in life? Probably not, but there are those who firmly believe in these things, yet what happened to this mother who gave birth to her three daughters is truly incredible and makes us question once more: in every day life, do coincidences exist or not, and what role do they have in our common journey? Do you think that Kristin Lammert, the mother at the centre of this story, ever imagined to herself that her three daughters would be born ... on the same day!
via Today Parents
Advertisement
This is the incredible story of Kristin Lammert, a mother of three daughters born in a strange turn of destiny that truly leaves us speechless; the woman is 32 years old and lives in Oviedo, Florida, and when she learned that her daughter Giuliana, her second born, would be born at the end of August, she had no more doubts: she felt within herself that the little girl would be born on August 25, the exact same day as his eldest daughter Sophia; and that's exactly what happened.
If this coincidence wasn't enough, three years later Kristin became pregnant with her third daughter, and she too was expected by the end of August, early September; the woman initially joked about it saying, "What if Mia (the third child's name) was also born on August 25, the same as her two little sisters aged six and three?"
What apparently seemed like an improbable joke has actually turned into reality: little Mia was born exactly on August 25th like her two little sisters, exactly three years after the second child, who in turn was born exactly three years after Sophia. An incredible record, given that Kristin was keen to point out that none of her three daughters was born on the date predetermined by her doctors; in a nutshell, their births on August 25 are all the result of pure chance!
Advertisement
In remarking on this incredible and very rare story (there are very few cases in the world in which two or more children are born on the same day in different years), Kristin uttered with these words, a few months after Mia's birth: "The closer we got to August 25 and the more we joked about it at home, and at the same time the more I wanted it to happen ... In fact, Sophia said she was sure she would have a new sister again for her sixth birthday, on August 25. She wanted that to happen and I thought, 'Well, why not, it could happen for the third time!'
Do you know any friends or relatives who have had a similar amazing and rare experience like Kristin's? Let us know in the comments!