A millionaire tourist leaves part of his inheritance to the bellman of a hotel where he stayed every year
The people we meet casually over the years and with whom we have to deal for the most disparate reasons can change the course of our life in an unexpected way. Taskin Dasdan has been working as a bellboy at a large and prominent luxury hotel in Turkey for many years, years in which he has met a considerable number of rather wealthy people who had stayed overnight at the same hotel. He and all the other employees have the duty to be always available and kind to the hotel guests and it is inevitable that a relationship is created with the most loyal ones, that we could define as friendship. Among the most prominent guests of this hotel was Charles George Courtney, a very wealthy English tourist who, every year, loved to spend his holidays in Turkey. A friendship developed between him and Taskin over the years, to the point that, when the elderly millionaire passed away, the bellboy found himself remembered in his will.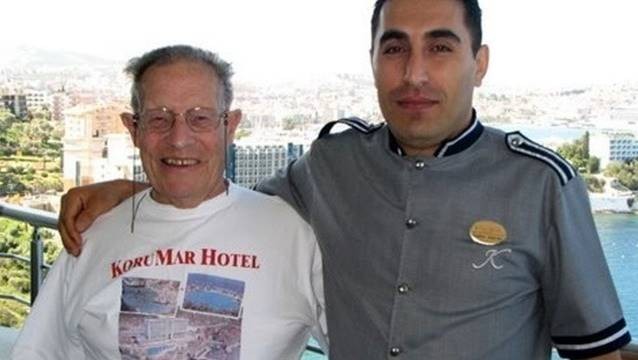 Taskin Dasdan has been a bellboy at the Korumar Hotel De Luxe, Turkey, since 1990 and has been happy to continue welcoming guests to the establishment ever since. Among them, one in particular has had a prominent place in his working career, as he has become a friend to him over the years: Charles, an elderly English tourist who every year came to spend his holidays at the Korumar Hotel. Unfortunately, after many years of vacation, old Charles passed on, leaving a will with the names and surnames of those who would inherit his small fortune. Among these names was also that of Taskin, much to the latter's surprise. Besides him, smaller percentages of the inheritance went to the other hotel bellboys who had always welcomed Charles during his holidays.
Taskin told how the relationship with Charles had now become a friendship, and how in the past the man had already given him money to provide for his children's education. In short, Charles was a very generous man!
To his astonishment, however, Taskin found himself answering a phone call from England informing him that he was in Charles' will and that he was, among other things, one of the heirs. Charles had treated him and the rest of the hotel crew like part of his family. As generous as the man might be, Taskin certainly did not expect to inherit a fortune. If he wants to, Taskin may not even have to work for the rest of his days, so generous was Charles's legacy.
Today, if you go to the Korumar Hotel De Luxe you will find a special room, 401, the one in which the elderly English tourist stayed every year, now renamed as "Charlie's room" in his honor.