Widow gives birth to her late partner's son, 14 months after his death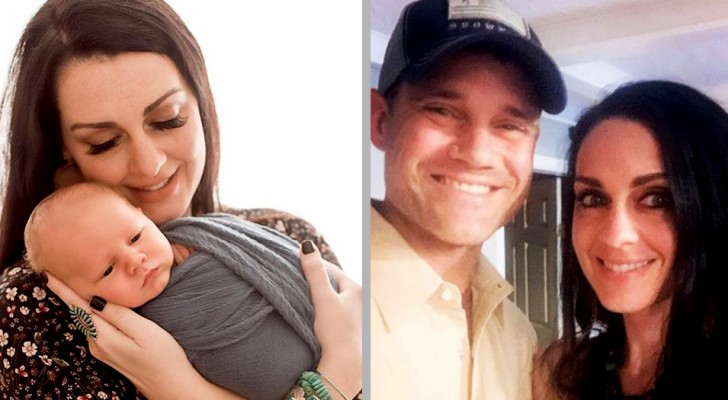 Advertisement
The desire to have a child is not only the prerogative of the mother, but also of the father of the unborn child; after all, a child is the fruit of love between two people who feel deeply for each other and who, presumably, are looking forward to becoming parents and raising and educating a child. However, the desire for parenthood also belongs to couples who, for one reason or another, cannot have children in a completely natural way; read carefully the story of Sarah Shellenberger and her partner Scott to understand how sometimes destiny knows how to play her cards well ...
via Mirror UK
Advertisement
Sarah Shellenberger, an Oklahoma girl, first met Scott in 2017 when they started communicating on Facebook; they decided to start dating and then after four months they immediately tried to have a child; giving birth to one or more children has always been the greatest desire for this beautiful couple, but fate was about to play a bad joke on Sarah and Scott. The woman suffered from infertility and for this reason the two went to a clinic in Barbados to start the procedure of in vitro fertilization of their embryo. But the bad news didn't end there.
In 2020, at the age of 41, Scott passed away due to a sudden heart attack during a college lecture. He was attached to a ventilator to support his breathing for a few days, but then after some time, the doctors decided they could not help Scott, that he would never make it and that he could not survive that terrible accident.
Advertisement
Sarah was shocked; she not only had she lost her beloved mate but now Scott would not live to fulfill his greatest wish: to be the father of a beautiful child. The woman, to pay homage to her partner who died prematurely and to satisfy her desire for motherhood, used the embryo that had been fertilized months before and thus became pregnant by Scott about five months after her partner's passing. 14 months after Scott's passing, Hayes was born, who is now 8 weeks old and is the perfect image of the love between Sarah and the dad that the little one will never know.
Despite the pain and the tragedy, Sarah Shellenberger did not give up, she gave birth to the son of her deceased partner and thus realized Scott's greatest dream: to become a parent.
And we are sure that this woman will be a perfect and special mother for little Hayes, the natural legacy of a man who will certainly watch over this extraordinary family from above with infinite love and benevolence.
Advertisement