He can't afford a princess dress for his daughter, so dad makes it out of plastic bags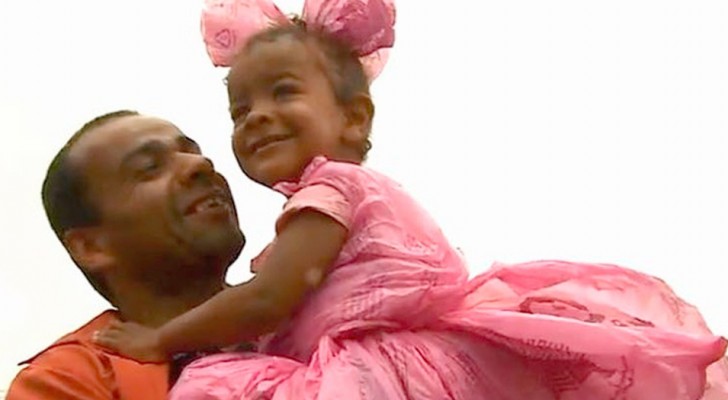 Advertisement
Sometimes parents are capable of doing great things to bring their children a smile. Some dads in particular would go out of their way to please their little girl, even making a princess dress out of shopping bags. With very few financial resources, but with incredible creativity, he didn't hesitate to find a solution to please his little princess. The final result thrilled not only the little girl, but also the whole world.
via Balanço Geral
Advertisement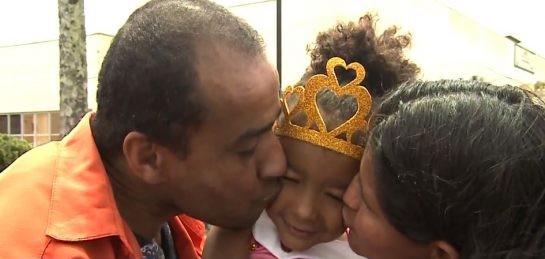 Luciano Carvalho is the father who is the protagonist of this touching story. Through his creativity he showed all of Brazil and the whole world that, to be a good father, it's not necessary to give incredibly expensive gifts, but to really listen to the needs of your children. His two-year-old daughter Samira, in fact, only wanted one thing: to attend a party dressed as a fairytale princess. An apparently simple request that however put the father in difficulty.
Luciano is in fact a humble man, he works as a worker in a car factory and, unfortunately, does not have the financial resources necessary to indulge all the requests from his little girl. As happens in every school, at the end of the school year, various masquerade parties and balls are organized. Samira, as soon as she heard the news, was unable to contain her joy and was dreaming of participating with her companions in the party dressed in pink. The father, enthusiastic about the news, didn't allow himself to be discouraged by the exorbitant cost of princess dresses and sought an alternative solution day and night.
Advertisement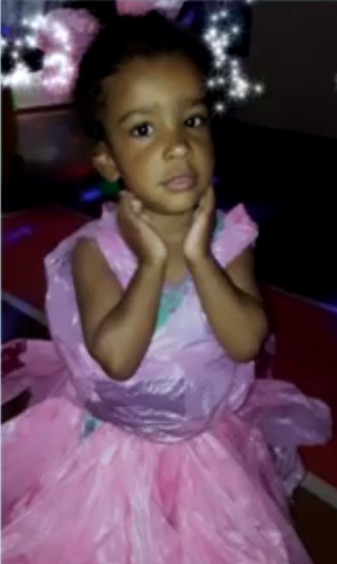 At some point, he came up with this great idea: the dress could be made with pink shopping bags. On the other hand, creativity belongs to the family in Samira's house: "We didn't want our daughter to be excluded because of us, and since my wife and I have always made all kinds of objects with recycled materials, we accepted the new challenge" said the dad.
To understand how to create a "made to measure dress", father Luciano relied on the internet looking for various tutorials on how to make a princess costume with shopping bags step by step. After going to the local market several times to get as many bags as possible, the dress took shape. "We always shop in that supermarket and by now they know us perfectly. So when we explained our intentions and our idea, everyone helped us by giving us a mountain of pink bags, perfect for the dress" continues Luciano, the princess's father.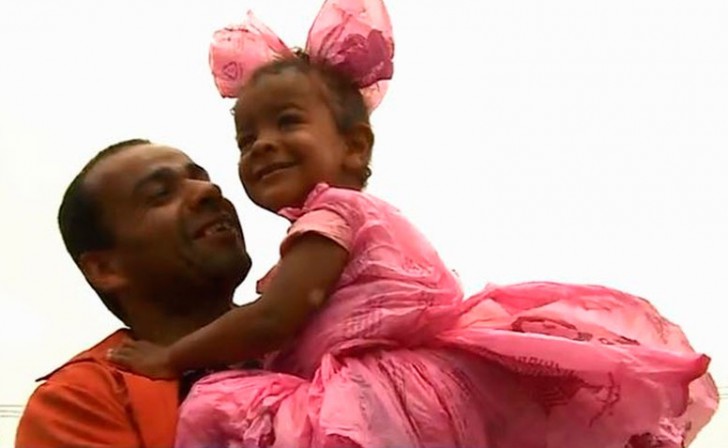 Once completed, the dress was perfect. Now it was only necessary to show it to little Samira, who was impatient to join the party. Needless to say, the surprise excited the little princess, who jumped for joy knowing that she could participate in the party with her dream dress.
Arriving in class, she seemed to be the happiest child in the world: finally her dream had come true thanks to the creativity of her parents. "As soon as I saw Samira's loving father accompany her daughter to the party and with the alternative handmade dress, I was moved. What was happening was so touching. Samira really felt like a princess. She danced and swayed in that dress and played with her peers. I had never seen her so cheerful", concluded the teacher Aline Dias.
In short, it's not just a simple dress made with bags and makeshift stitching, but a gesture full of fatherly love. No precious material can replace the creativity of a father who dotes on his little girl. Congratulations to this great dad!
Advertisement