This little dog and his little human are so close that they can no longer sleep apart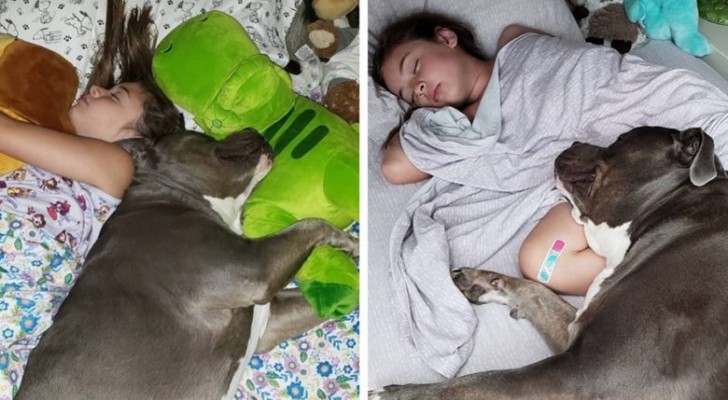 Advertisement
How many times have we allowed ourselves to be convinced by the stereotype that the pit bull is a dangerous and aggressive dog? In fact, this dog breed is just like all other breeds, it all depends on how they are raised and bred. For the most skeptical, today we want to tell the story of Lebowski, a sweet pit bull with a heart of gold who has made the life of Scarlett, his owner of only 8 years old, more colorful.
Scarlett's parents welcomed little Lebowski when their daughter was only 4 years old, saving him along with the entire litter. To keep the newcomer in touch with his siblings, Scarlett's parents get together once a month with the other families who have adopted them, so that they can be together despite their separate lives.
Advertisement
But the pit bull's favorite playmate is undoubtedly his little human. After two spend whole days together without ever separating, it was as if they could no longer do without each other. Among the thousand things that Scarlett and Lebowski do together, there is one that beats them all in terms of tenderness: they cuddle and fall asleep together every night. While other children sleep next to their favorite soft toys, this little girl would never be able to sleep without her dear little dog.
After four years together, Scarlett is more and more in love with her pit bull, and she dedicates such tender phrases to him as: "Growing up with him is the best thing that ever happened to my heart." She is a very empathic child who, in addition to giving her little dog a home, has also given him a friend for her life.
Against all stereotypes, Lebowski has managed to prove that even pit bulls can grow up in a family where there are children (if they are properly trained, of course). In fact, not only is this little dog adorable with his family, but he is also very shy with strangers.
In the photos published on Scarlett's Instagram account (managed by her mother), in addition to the hilarious photos of Lebowski dressed up by his little human, there are also photos and videos in which the two sleep together. It seems that their sleep is synchronized: every time Scarlett falls asleep, her little dog can't help but do the same.
Sometimes, in addition to sleeping at Scarlett's feet, Lebowski sleeps beside to her, resting his head on her legs or hugging her, as if he were a living toy animal who wants to keep her dreams safe. It's mpossible not to melt in front of these adorable shots.
Advertisement
Having reached 110 thousand followers, Scarlett's parents are gradually succeeding in their intent, which is to spread the message that pit bulls are loving dogs just like other breeds and that they deserve to have a family without being victims of an unfair and persistent stereotype. Well, after all, if we can't judge a book by its cover, why should we judge a dog by its breed?