A mother struggles to fill the pool for her daughter's birthday: firefighters save the day
A North Carolina mom from the city of Charlotte received unexpected - and incredible - help filling her daughter's inflatable pool on her birthday. It was a perfect day, both for the warm sun that illuminated the garden, and for the happiness of the little guests who were invited to the party who would soon have inaugurated the swimming pool full of water. Too bad Mom hadn't thought about how to fill the pool!
Of course, of all the help she could have received, she would never have expected...firefighters to intervene!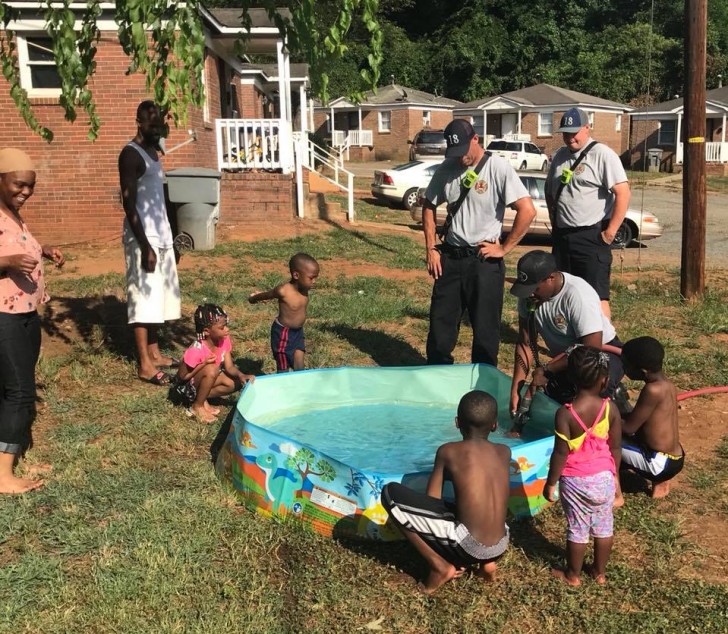 For children, there can be nothing more beautiful than playing in the water in the garden on a hot summer day. The problem is that filling a swimming pool with water is not at all simple. Just think that for one of the smaller pool models you need almost 1000 liters of water! In the case of this mother, however, many more were needed given the size of the pool.
The woman realized only at the beginning of the party that she didn't have a garden hose and that she had greatly underestimated the problem. So, she started filling the pool with a pot and she quickly realized that this would take her the whole day. Her efforts, however, were noticed by the local firefighters, who were passing by. So, they stopped and used some water from their fire engine to fill the little pool for the little party guests.
"Imagine the children's euphoria" said Charlotte, "to see all these great men in uniform attend the party, fill the pool and play with water, splashing it a little on all of us! It was a beautiful moment". The photos posted on social media have gone viral and have been highly appreciated by other internet users. "This kind of gestures allow you to believe that life can be wonderful," wrote one reader; "A little story that can move you" wrote another person, "because humanity can be seen in the little things, in the willingness to make a child laugh"; "If all people behaved like this," added another, "we would have a fairer society and we would all be better off."
The firefighters themselves were amazed and amazed by the success of this simple gesture: "For us it was a moment of relaxation," said one of the guys from the city fire service. "Every day we intervene to help the population in very different problems: from kittens in trees, to evacuation from burning houses. Serving others often requires energy and strength, but it's always done with the love of the community".