Her granddaughter organizes a fairytale birthday for her: this grandmother celebrates her ninetieth dressed as a princess
Who said a princess should always be young, with long golden hair and flawless skin? Let's dispel this myth: every woman is a princess, regardless of her age and physical appearance and, like any self-respecting princess, each of them deserves to receive royal treatment!
Young Stephanie Perkins certainly believes this and she who honored her favorite princess of all time, her grandmother, organizing a royal party for her on her 90th birthday.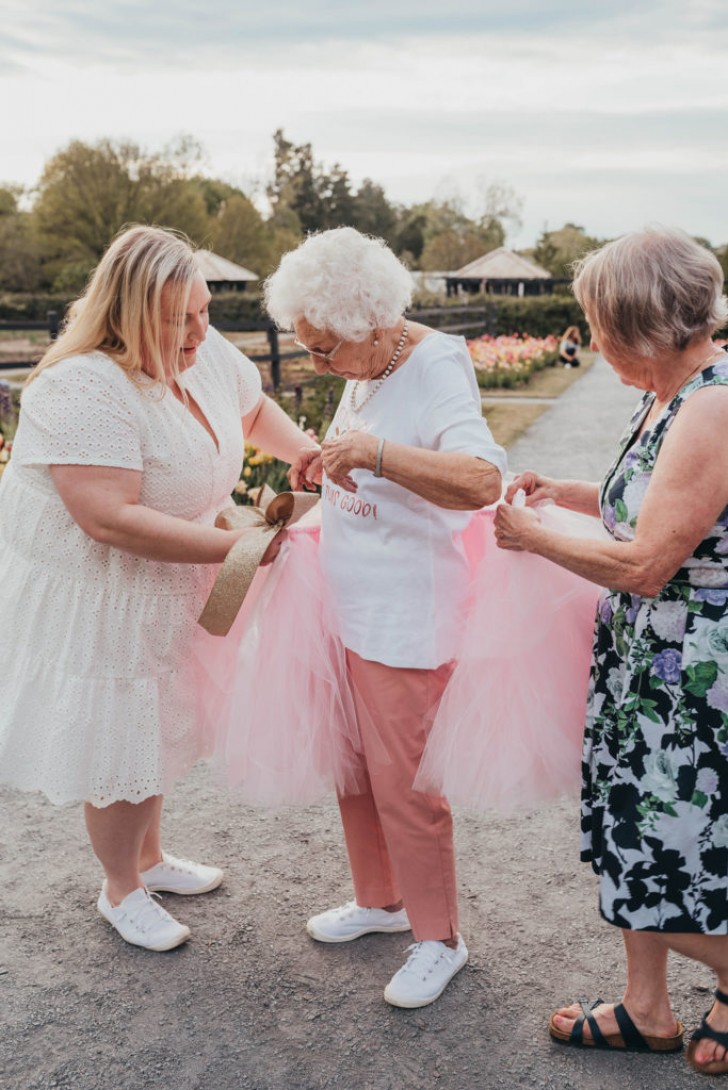 After a long time without seeing each other, first because of the pandemic and then because of quarantine, Stephanie wanted her grandmother's birthday (known as "G-Ma") to be more iconic than in previous years, also because a ninetieth birthday only happens only once in a lifetime: "I knew her 90th birthday was coming and we wanted to do something special just for her. My family had all been vaccinated, so we felt it would be safe to celebrate together now".
The best way to honor her on this very special day was to organize a birthday party for her, setting up everything in comlpetely fairytale style, complete with a crown. The party was organized in just 2 weeks and everything was planned down to the last detail: from the throne to the pastel colored balloons scattered all over the place; even her cookies were hilarious because they were made in the shape of her face. What could be better!
Obviously, Stephanie also thought about her grandmother's outfit: a pink tutu with a giant golden bow, a crown with the number 90 on her head and, finally, a very nice t-shirt with the motto "it took me 90 years to be so beautiful!".
Not content with that, the young woman decided to invite Melissa Denny, her former high school friend, now a talented photographer, to her grandmother's fabulous party: she wanted G-Ma to be a model for a day, on her birthday! So, in addition to the party, she organized an unforgettable photo shoot, inspired by the classic photo shoots that are made for first birthdays or for other important occasions. In her photos, the grandmother is bursting with joy from every pore, happy as a child as she holds the balloons in her hand.
G-Ma was aware of the fact that celebrations would be organized for this very important milestone, but she never imagined that the party would be so beautiful and colorful, complete with a throne and a photo shoot. "She was very happy to pose and do all the things we asked her. She was smiling and laughing all the time."
After spending a wonderful day with her loved ones, the grandmother decided to celebrate a second time, the following day, with a drive-through-style party where her closest friends also participated: "We all wanted to be there. to see her shine on her special day".
Whether someone is 20 or 90, they are never too old to feel like real princesses. Happy birthday G-Ma!
And now we are waiting for a regal 100th birthday!