A granddaughter fulfills her 94-year-old grandmother's wish to be able to wear a wedding dress for the first time
There are many experiences that are closed to us during the course of our lifetime. Sometimes, it's not our fault or our bad judgment - simply, the conditions never arrive to make that dream come true! Ninety-four-year-old Martha Mae Ophelia Moon Tucker had never worn a wedding dress, for example, despite marrying back in 1952. Back then, however, African American women weren't even allowed into bridal shops, which is why, so Martha got married without ever actually wearing a big white gown. A disappointment that, evidently, continued throughout her life, until she loudly expressed her desire in front of her granddaughter, who wanted to organize a beautiful surprise for her.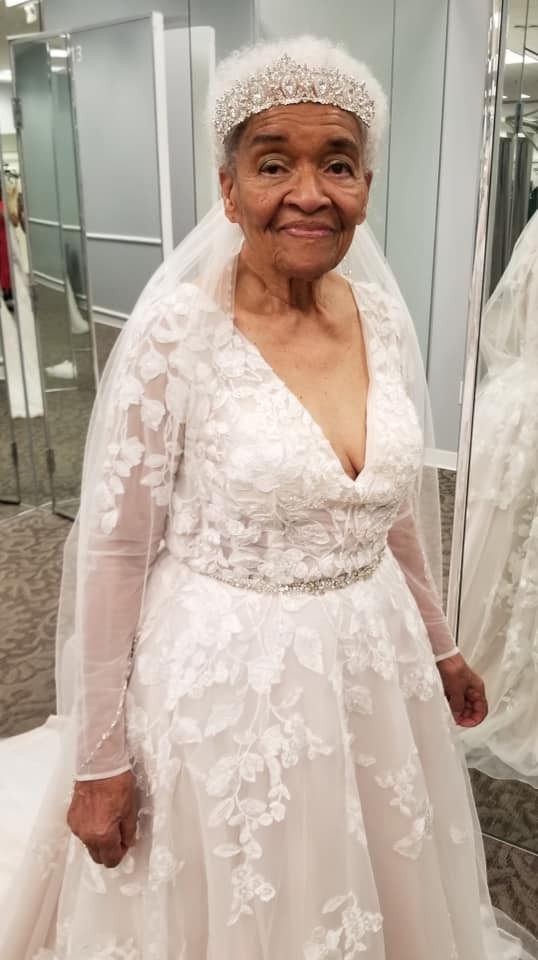 Martha Tucker was watching a movie with her granddaughter when she whispered at the sight of a wedding dress how much she would like to wear one. Her voice was low, but not low enough to be inaudible to her granddaughter, Angela Stroizer, who quickly pointed out to her grandmother that it was an entirely achievable wish. At first, Martha thought she was joking, - after all, she was way too old for that, wasn't she? Angela, however, was not joking at all: she really wanted to fulfill the sweet and simple wish her grandmother had cherished! A couple of days later, in fact, Angela called some relatives and took her grandmother to a wedding dress shop, "David's Bridal". Here, everyone was able to witness a truly emotional moment: Martha wore a wedding dress for the first time and, despite her advanced age, she showed herself in all her beauty!
Martha married in a blue dress that the family she worked for loaned her. On the day of the wedding dress fitting, the granddaughter had also hired a local make-up artist to enact a real makeover on her favorite grandmother. Imagine, then, how this sweet granny would have felt wearing that dress! Almost as if, in the end, she didn't want to take off her dress anymore, even though she knew she should. The touching scene that day was shot by the woman's other granddaughter, Erica Tucker, who posted some touching videos and sweet photos of her grandmother on her Facebook profile.