Criticized for agreeing to marry a woman who is pregnant by another man
Do you have to be a biological father to be a good dad? Absolutely not, and this time Edgar Costa, a 27-year-old man from Sao Paulo (Brazil) proved it without too many pretensions, when he welcomed the daughter of his partner Carol, as if she were his own daughter. When the two met, Carol was already pregnant by her ex, but for Edgar, that wasn't a problem. The man wrote a post on his Facebook profile, stating that he and his girlfriend were expecting a baby girl, to their amazement, however, friends and family, as well as other users, had an unexpected reaction when they learned that Edgar was not the child's biological father. After the criticism, Edgar deleted the post, but he has demonstrated what it means to be a real dad, taking care of little Lara.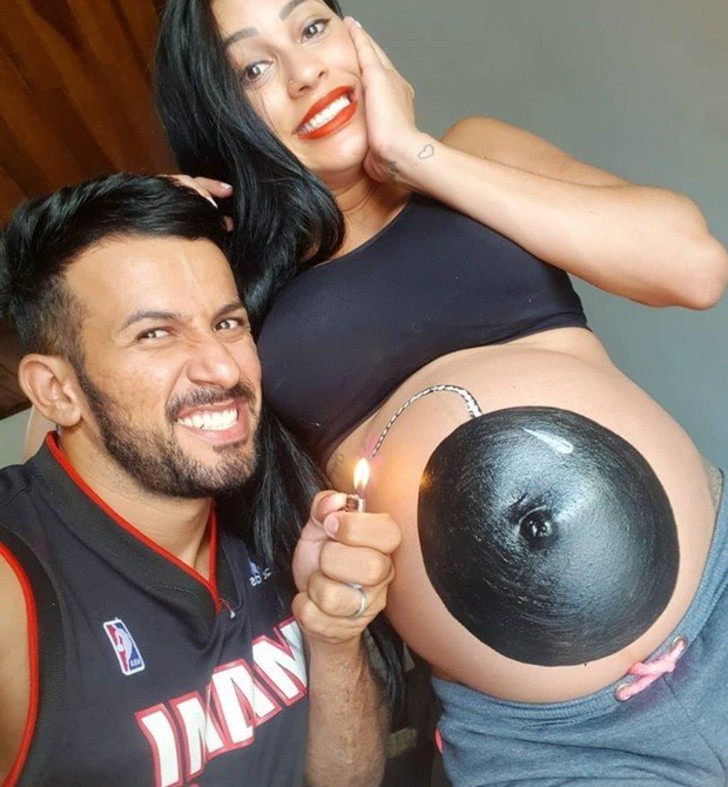 Becoming a parent can be scary, let alone parenting someone else's child! Edgar Costa, however, although he had some natural fear, was carried away by the love he felt for the woman he had recently met, Caroline da Cruz Oliveira, whi is the same age as him. when the two met, the woman was tired of being hurt and always treated the same way by men and, above all, she was tired of the fruitless relationships she had had up to that point. Caroline specified that she was not abandoned by her daughter's father, their relationship simply didn't work out. As is well known, love comes when we least expect it and that's exactly how Carol and Edgar fell in love.
What were Edgar's thoughts? The young man clearly expressed them in a post: "I was, yes, afraid of being involved because she was pregnant with a child that wasn't mine. I didn't know what it would entail if we were in a relationship. But then the fear passed and almost unconsciously, I got involved. The pregnancy was not a hindrance. It was all very natural ... Obviously some people close to me came to give me advice. The biological father? Would he take on his responsibilities? I just fell in love with a pregnant woman. This is where our story begins. After a month I asked her out, with a beautiful statement that I always dreamed of making to the woman I would have by my side forever. Two months later she surprised me by asking me to marry her. And I had no doubts: I said that was what I wanted too. Did things happen too quickly? When all this is in God's plan, there is no need to wait. " Regarding being a father, Edgar added: "Being there, even not being the biological father, but just a boyfriend, was important because she could choose anyone from her family to be there with her, but she chose me! What a wonderful moment, it was an incredible feeling. I confess I was nervous and impatient, but then Lara was born and I was so excited that I wanted to share it with my friends and family, but I had no idea of ​​the impact that would be caused by that statement."
Unfortunately, in addition to many positive comments, Edgar also received negative words and harsh warnings: "Most were comments from men. I don't understand why there's so much hate. They insulted us. We were so upset that we decided to delete the statement." These people kept commenting insisting that it seemed very strange for a man to want to commit to such a degree with a pregnant woman and take care of a daughter who is not his.
Edgar hopes his testimony can be an answer to the doubts that usually arise when dealing with a relationship. He knows well that when you find the right person, there are no insuperable obstacles and that the presence of a child is certainly not an impediment, on the contrary - it's a source of joy and wealth. Do you agree with the position taken by this young dad?