A bride abandons her wedding party to help her cow give birth to a calf
When you have a very strong passion for something, everything seems to take a back seat, even on your wedding day. You know, this day is one of the most important in the life of the couple who have decided to spend their whole life together, in health and in illness, yet an emergency is always an emergency. Meet Jessa and Ben, a couple from Gorae cup in Australia united by a common passion for the farm and ... cows!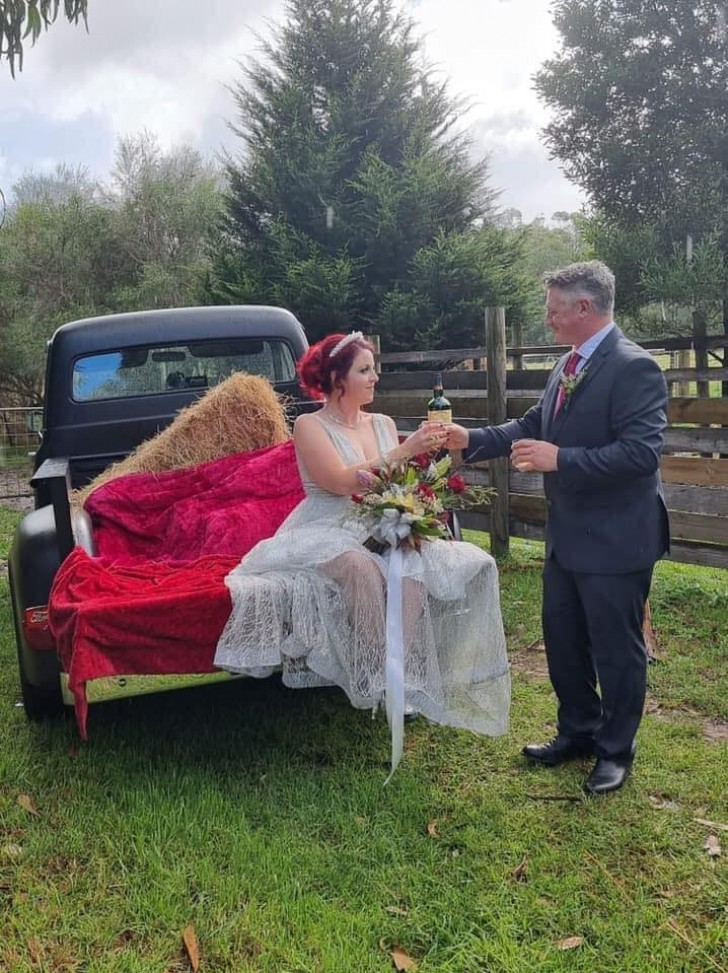 Jessa and Ben met in a pub and immediately fell in love; they both shared the same passion for the farm, for working the land and for the cows, so much so that when they finally decided to get married they did so on their own farm land. Although it was rather complicated to organize a wedding and a reception due to Covid, the couple had initially decided to postpone the celebrations to 2021.
On the rearranged date, Jessa and Ben didn't miss the opportunity to celebrate their religious union, but they never imagined that one of the cows on their farm had decided to give birth on the very evening of the reception. The cow in question was called Drama and had decided to go into labor on the evening of the festivities; around 10.30pm, a family friend and farmer warned the couple that Drama would be giving birth to her calf very soon, and that she needed help.
Jessa didn't think twice and immediately rushed towards Drama's stable: "Those who know me are completely unsurprised by what I did. My husband was at home making cups of tea for people and when someone came in and broke the news he said: Jessa is down there in the mud, isn't she? "
The beauty in everything that has happened is that Jessa had not thought in the least about changing her clothes and entering the stable in a much more suitable outfit, instead she decided to go there and give a hand to the Drama cow still wearing her beautiful white bridal dress. It goes without saying that her precious and expensive dress became completely soiled with mud in an attempt to help the cow to give birth to the long-awaited calf.
Eventually, Jessa was able to welcome the calf Destiny, wipe the mud off her hands, and return, as if nothing had happened, to her wedding reception ...
Obviously all the people who saw her in her wedding dress all covered with mud from the knees down were surprised and everyone asked her what had happened. Jessa and Ben, however, were very happy about the events that night, and after making sure that the calf and its mother were fine after giving birth, they danced with the other guests until late at night, and the bride didn't remove the her white dress until 4:30 in the morning!
After all, as Jessa herself said, "it's just a dress!"