At 8, he invents a solar water heater for all poor families who cannot afford to buy a boiler
There's no set age to feel part of the world in which we all live and which is constantly threatened by man; by now we all know that the planetary ecosystem has been at risk for some time and that we must do everything to reverse this course and make our life sustainable; the future of our beloved planet is at stake. It may sound strange to you, but there is an 8-year-old girl living in Mexico who not only cares about the fate of the Earth but who did something concrete to improve everyone's life while respecting the environment.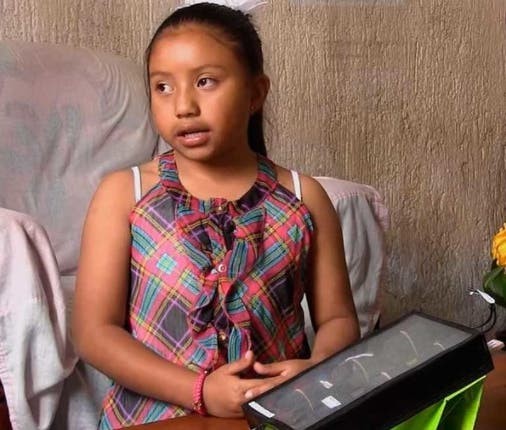 The girl is called Xóchitl Guadalupe Cruz López, she is eight and lives in the Chiapas region in Mexico; since she was only four years old, this little girl has been interested in environmental issues and the world of science, even if mom and dad didn't know how to encourage this passion of hers since they were a poor family who lived in a decidedly poor area and with very little technology.
However, the child never lost heart and she wanted to contribute with what she had to improve the lives of the poorest families while respecting the environment.
She got help from her father and thanks to him she installed a solar water heater for low-income families on the roof of her house; the production costs of this water heater are really low: about 200 Mexican pesos (equal to 9 euros) and material that can be easily recovered (black painted bottles, flexible pipes, pieces of wood and the doors of an old refrigerator). Xótchil said: "Low income people do not have the opportunity to buy water heaters, so they cut down trees to get firewood and this affects global warming. That's why I made this water heater that works with sunlight, it's low cost because it is made with recycled materials, does not harm the environment, and helps people with few resources."
The 8-year-old girl also stated that her solar water heater is capable of heating up to 10 liters of water a day, a considerable amount for all those families in great economic difficulty who don't have the resources to afford a new generation boiler.
For her extraordinary invention, this little girl with her unique intuition, was awarded the highest honor by the Institute of Nuclear Sciences, the first woman in Mexico to have brought home such recognition.
A privilege and an honor that's very rare that a child of only 8 years can achieve, but Xóchitl Guadalupe Cruz López is not a child like all the others: she cares about the environment, she wants to help less well-off families like hers and she wants, in her own small way, to change the world for the better.
What could be more beautiful?