A firefighter calms a child after an accident by letting him play with his cell phone: the moving photo
Believe it or not, there are angels among us and living on our planet, they walk close to us, they don't have the much-talked about wings and they have hearts full of kindness and empathy. We are talking about simple people, those who we would never expect to be capable of making great gestures of courage, heroism, solidarity and kindness. An angel can also reveal itself to us as a simple firefighter who has come to save the day after a car accident.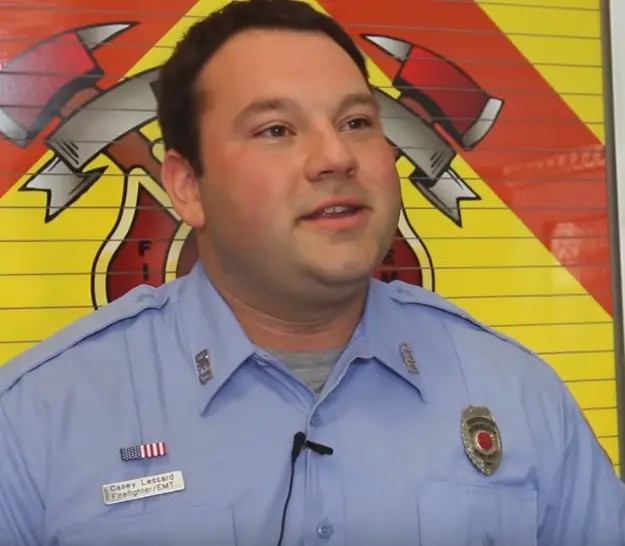 The road accident we want to tell you about happened in the town of D'Iberville in the US state of Mississippi, and involved a car which overturned and veered off the road, an adult and five scared and injured children. Paramedics and members of the fire brigade immediately intervened at the scene of the incident and tried to rescue all the victims of the accident.
Among these firefighters there was also Casey Lessard, who suddenly approached one of the five children involved, trying to calm him before the arrival of the ambulance that would transport him to the hospital ...
The child seemed the one least affected by the accident and the one with the least injury, but Casey knew he had to do something to entertain him before the ambulance arrived. He knew it was his job at that moment to give him a small but important moment of lightheartedness in the midst of the emergency situation. The fireman wanted to entertain him with his cell phone, but he couldn't get to it because it was under his uniform. When he saw that a colleague of his was talking on his phone, he didn't think twice and asked him if he could lend it to him for a moment ...
What came to Casey's mind managed to alleviate the child's suffering for a moment by making him smile: the fireman took his colleague's cell phone, put on a cartoon and shared it with the child while they awaited the ambulance.
And it seems that, despite the fear and the injuries, at that moment the child victim of the accident had forgotten what had happened. He had smiled and seemed to be enjoying himself while watching the cartoon that friefighter Casey Lessard had chosen on that tiny screen. The American firefighter's touching actions immediately made the rounds of the web, when many viewers celebrated him as a real hero for what he had done.
Casey, for his part, doesn't feel like a hero at all: "I was just in the right place, at the right time, and I did what I had to do, that's all."
As simple as it was, it meant a lot to that frightened child: great job, Casey!