A curious dog gets trapped in a hole in the wall while spying on the neighbors: she's rescued by firefighters
You know, our domestic dogs have very powerful and very unusual senses; not only can they perceive smells, fragrances, sounds and other imperceptible elements that we human beings cannot conceive, but they are also very nosy in nature. Well yes, our dear four-legged friends just can't help but find themselves in situations that do not belong to their daily life, and for this reason they often get into trouble. Like the poor protagonist of this accident, who poked her nose into what the neighbors were doing ... and got trapped!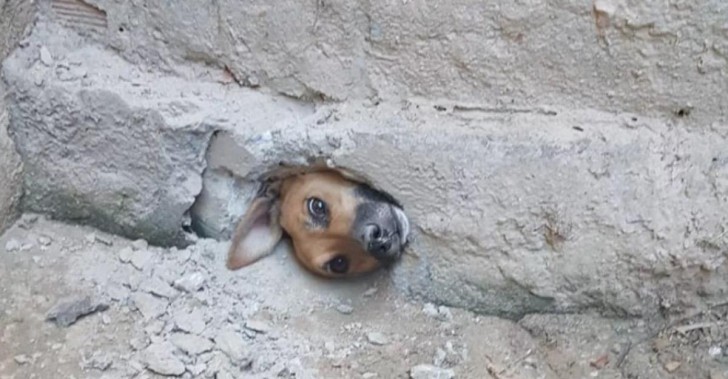 The incredible event happened in Sabarà, in the metropolitan region of Belo Horizonte in Brazil; the little dog at the center of this absurd story is called Mel, and she is a one year and eight months old dog with a lively, mischievous and very very curious soul. Her owner Rosangela Silva said that she was very interested, for unexplained reasons leading up to that moment mysterious, in a hole in the wall that separated their garden from that of the neighbors: "Mel sleeps in a separate area of the house and every morning we open the door to allow her to move in the garden. Nobody understood the reason for this curiosity.", said Rosangela.
Unfortunately, Mel's curiosity caused her to be drawn into a bad situation: to spy on what the neighbors were doing on the other side of the dividing wall, the little dog of just over a year stuck her head in the hole that separated the two properties; pity, however, that the curious dog's head was literally stuck in the wall and the animal, trembling and frightened, could no longer get free.
Rosangela was about to leave the house to go to her workplace, and luckily she noticed that something was wrong in the garden: Mel was lying on the ground and struggling to get out of the hole, without succeeding; Rosangela and some of her relatives tried to get her out for more than an hour and a half, but nothing worked.
Eventually Rosangela and the others were forced to call the fire service, who armed with a hammer, began to pull down part of the dividing wall to widen the hole and to make sure that the dog Mel came out safe and sound and without wounds or bruises. It took the firemen half an hour to get the dog out, but all is well what ends well ...
Now Mel is fine, Rosangela finally feels relieved and they can celebrate the successful rescue together. Do you think that this lesson was enough to make the curious dog understand that snooping too much elsewhere can be unexpectedly dangerous?