A woman gives birth unexpectedly during a scheduled flight: "I didn't know I was pregnant!"
Imagine taking a flight to a vacation spot, where you can relax, and finally landing, after many hours, with an extra family member. Lavinia Mounga was traveling with her family to Honolulu, Hawaii, to enjoy some well-deserved rest, but during the flight she began to feel contractions. While crossing the miles that separate Salt Lake City from the capital of Hawaii, Lavinia gave birth to a beautiful baby boy. What shocked all the passengers and Lavinia herself was the fact that the woman didn't even know she was pregnant! Can you believe it? However, she and her partner, Ethan Magalei, say they are delighted to have been blessed with this "divine gift". What is certain is that all the passengers cheered heartily when Lavinia gave birth to the baby!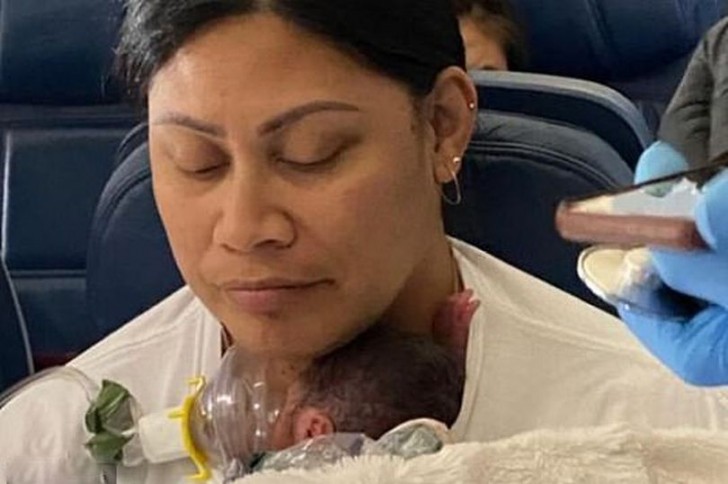 The flight from Salt Lake City to Honolulu that Lavinia Mounga took was particularly turbulent, but not so much because of technical problems related to the weather or the aircraft, but because of the incredible event that took place on board. The woman, in fact, gave birth to a child even though she had absolutely no idea that she was pregnant. The baby is fine and was immediately taken to the hospital for all sorts of checks. The woman has called him Raymond Kaimana Wade Kobe Lavaki Mounga and she says she will be delighted, together with her partner, to raise him to the best of their ability.
Ethan Magalei, Lavinia's partner, said he was absolutely shocked by the news and hopes to be the "best dad" in the world for the little one. Furthermore, the young man was not present on the plane at the time of the birth, so we can only imagine the whirlwind of emotions that overwhelmed him, especially as millions of people around the world have learned this bizarre news at exactly the same moment. The guy had to wait for Lavinia and her family to return from Honolulu to be able to hug his partner and their little son.
Passengers on the flight, which clearly had a significant delay to the schedule, applauded warmly when they realized that a woman had just given birth to a baby boy. An incredible story, don't you think?