At 5 years old he helps the electricians in the house by always taking care of them: at the end of the job, they gave him 20 pounds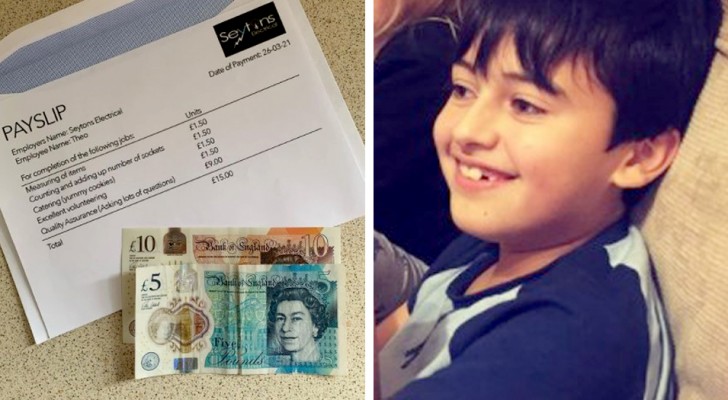 Advertisement
When your child is so willing that he wants to help you take care of little household chores, appreciate it: nowadays, the new generation is much more disengaged and less used to manual labor and small chores that can be done around the house. Of course, times have changed, technology has made everything easier for everyone, but this doesn't necessarily mean that today's times serve to bring up a better and more skilled generation at all costs ...
via Mirror UK
Advertisement
However, there are children who don't hold back at all when there is some manual work to be done, they don't complain and are decidedly curious; like Theo, the son of Laura-Nicole Anderson, who not only gave the electricians a hand for the whole time they were working in his house, but at the end of the work also received a genuine reward from the workers who thanked the mother and son for all the help they received.
Theo, a 5-year-old boy, spent the six weeks of the electrical work at home giving a little hand to the electricians themselves: he was very curious, he asked questions, took measurements when he could and took care of preparing drinks and food for the workers in the their break times ...
Advertisement
At the end of the six weeks it took to finish the work, the electricians left a small check with pocket money for the talented Theo: he had been awarded a whopping 20 pounds for his extraordinary supervisory work; not only was Theo beaming and surprised, but even Mom couldn't believe that generous gesture from the electricians: "The first thing he said after 'thank you' was that he was happy because he wanted to go and buy an Easter egg for his brother [...] From the moment they arrived to check all the electrical outlets, Theo was obsessed with them, constantly offering his help, asking them what they were doing with each step. The work took longer than expected and they needed to do some work in the shower area and add more sockets, so they had to schedule a couple more visits ... "
The woman went on to say: "When they sent a message to agree on a time, I thought there was no chance I would take Theo to school while they were here. That day he ran home from school because he couldn't see them. Time to see them! Theo helped count the sockets in each room, assigning them as he went, then turned off all the sockets. He made them food, and insisted they give him more chores to do. Every question he asked. they responded with such kindness, really making time for him despite being very busy. I can't thank them enough, they made Theo so happy while he was here. They always made time for him and he would engage in whatever he asked for!"
An act of kindness by the electricians, which made the mother of little Theo very proud: she knew that she was raising an exemplary son, curious, willing and very interested in manual work; he deserved that 20 pounds!
Advertisement