A 71-year-old woman asks for help to save her two elderly horses from slaughter
Saying goodbye to your pet is always very painful, whether the pet passes to a better life or whether some external factor forces us to separate. Jacqueline Binot, a 71-year-old lady has been looking after two beautiful horses for many years, but now that her strength is abandoning her she is no longer able to keep up with them as she once did. The elderly woman absolutely does not want her two four-legged friends to end their long and joyful life in a slaughterhouse and she hopes with her all her strength to find a shelter that can accommodate them. Of course, finding a home for two horses isn't like looking for a family for a pair of kittens or puppies, but Jacqueline won't give up.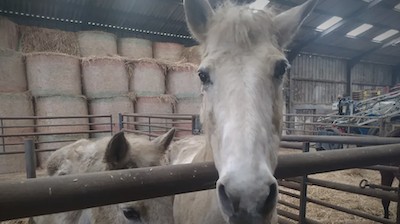 Jacqueline Binot bought the mare Sheeba in 1994. At the time, the animal was pregnant and gave birth to the other cute little horse: Outlaw. By now the two animals are quite old, - Sheeba is 31 and Outlaw is 26 - and Jacqueline herself is no longer able to give them the necessary care. In recent times she went to visit them regularly at the farm of a farmer friend in Argancy, but by now she understood that she couldn't do much for them: "I can no longer brush them or open the gate for them", the woman said sadly. She has been suffering from health problems for some time.
"It's heartbreaking because I've had them since 1994, but at 71 it's no longer something I can manage," the woman grudgingly admitted. There is no mention of sending them to the slaughterhouse, but at the moment the elderly woman has not yet found an adequate home that has offered to host the pair of horses in their last years of life. An educational farm would be the most suitable solution according to Jacqueline.
Jacqueline continues to phone various associations and animal shelters, hoping to find a suitable solution for her Sheeba and Outlaw, but has not yet had any suitable offers of help. She is very worried about the future of the two horses now so old and she publicly asks for everyone's help.
We hope with all our hearts that the two ponies can find a suitable place to spend their last years.