A teacher interrupts the lesson to rock his student's baby: he was crying non-stop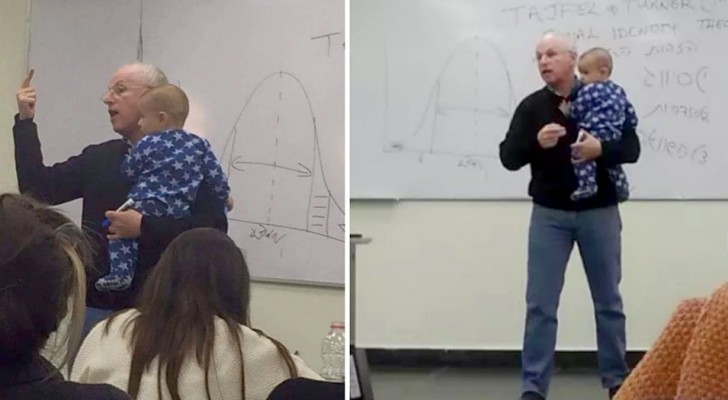 Advertisement
Sometimes, it's the little unexpected gestures that change a day for the better. Any act of kindness, even the most trivial, has the power to improve our life and that of others. There is a psychology professor in Israel who has always made kindness his hallmark; he has always encouraged his students, if they were parents, to bring their children to class, without any shame. For this reason, a photo of this "enlightened" teacher has been around the web.
via CTV News
Advertisement
The Israeli teacher is called Sydney Engelberg and he is a professor of organizational behavior at the Hebrew University of Israel and at the Ono Academic College and he went viral when a sweet photograph of him during a university lecture, intent on explaining his lesson to students while holding and cradling a small child. The child was the son of a student who didn't have any childcare for him during the day. It must be said that this student followed Professor Engelberg's advice to the letter: "It was a spontaneous act. I realized that the mother would have to abandon the lesson since the baby was crying, and if someone didn't do something, she would have lacked the material she needed to study later" said the professor.
Sydney's daughter, Sarit Fishbaine, praised her father's kind and unexpected gesture, with these beautiful words: "For years he has told his students: 'Bring your children to class, that's fine, they are an integral part of the class. We'll take care of them. My dad is the best dad in the world! "
And how could we not agree with Sarit's thinking!
Advertisement