20 photos of "before and after" transformations show that with commitment and courage anything is possible
1. This transformation is the result of two years of sacrifice: the woman's smile testifies how worthwhile it was.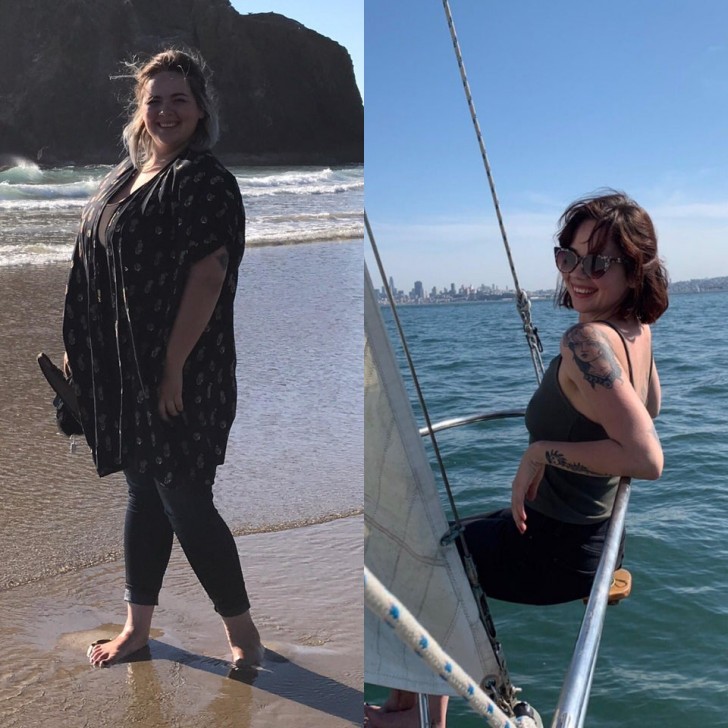 2. "Perseverance pays off," writes this girl. And a photo of her face is enough to show the incredible changes.
3. Size was never an issue in the love of this couple who, however, decided to make an extraordinary journey together.
4. This man's face shows the pride and satisfaction of having arrived at this result.
5. This girl almost seems shocked to have discovered that she has a neck: just one of the many advantages that the transformation has brought about.
6. These two friends decided to get back in shape together. Supporting each other, in this case, was essential.
7. A totally new smile, look and spirit also accompanied this transformation.
8. This boy's mom claims he is too thin now but the smile on his face only conveys satisfaction.
9. This man looks back at the photos of the past to realize how far he has come, for us it is immediately evident.
10. The writing on his shirt says it all: "hard work always wins". Only with commitment can these results be achieved.
11. A physical transformation is never just a physical transformation: it always brings with it a change of character as well.
12. It is never too late to decide to change your habits and make a change in your life.
13. Seeing the changes that even her face has undergone is a satisfaction and this woman is proud of her journey.
14. Same pose, same frown and almost identical clothes: only with less beard and many fewer pounds.
15. The son decides to share his mother's transformation: he too is proud of her courage and determination.
16. This photo shows not only the results but also the effort faced to obtain them: a true example of willpower.
17. The climb is tough but it's worth it : this girl knows it, and with her new smile she enjoys the view from the top.
18. She thought that fate had imposed her size size in the photo on the left, but on the right says "if I did it, you can too".
19. Diet and exercise were the key to success for this man too, who is now enjoying the results.
20. The same dress, after transformation, is worn by this woman with a new confidence and self-esteem.