Woman gives birth to eight infants: "They told me I wouldn't be able to cope, but 14 years later, I have a wonderful family"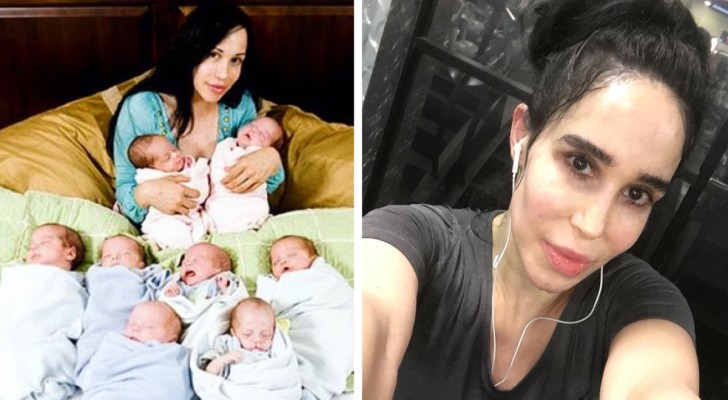 Advertisement
Having children is a common wish for many people. That said, there are many cases in which unfortunately, despite the strong desire to become a parent, a woman might have infertility problems. However, those affected by this problem should not be discouraged given the enormous progress made by science in this field: there are procedures to increase fertility in both men and women which can be very effective.
The subject of today's story caused quite a stir when she gave birth to the incredible number of eight babies: she became the record holder of the most infants ever born healthy, and for this she was nicknamed "Octomom ". Her story went viral, sparking heated ethical and moral debates.
via people.com
Advertisement
The name of this famous woman is Nadya Suleman and has described in the past how she reacted when she learned that she was carrying eight babies: and this on top of the fact that she was already the mother of six!
News of Nadya's "tribe" caused an uproar in the media: both social networks and TV shows feverishly discussed Nadya's choice of wanting to raise all these children.
Inevitably, some said Nadya was being irresponsible and that she would never be able to look after the needs of such a large family. Nadya didn't feel the same way and wanted to send a message to all those who have criticized her.
14 years later, Nadya recently showed how the octuplets have grown, photographing them on their fourteenth birthday. The kids have now all become "small adults": they are attending high school and appear to be in great shape.
"I don't think I was so irresponsible in my choice after all," Nadya stated. This super-mom has always provided for her kids and is proud of each of them: "they are becoming some of the kindest, most humble, grateful and loving human beings I have ever met, especially in our society of today," she added.
Surely Nadya has managed to make many of her critics change their minds; however there were ramifications that occured around Nadya's unusual case.
Advertisement
It is important to point out that Nadya had undergone IVF treatments before having her very first child at the age of 21 and that, even after her first pregnancy, she continued with fertility treatment. Her doctor was Dr. Michael Kamrava, and he implanted extra embryos into Nadya after claiming earlier implantations had failed.
Dr. Kamrava had repeatedly reassured Nadya not to worry and that she would become pregnant with twins. As we know, things went a little differently: rather than twins, Nadya had 8 babies. Shortly after this "incident", Dr. Kamrava was disbarred and was no longer allowed to practice his profession within the country.
Despite this mistake, Nadya is happy with how things turned out. What do you think about this story?