"Please adopt me": the heartbreaking words in a letter left beside a dog abandoned at a bench
Abandoning a dog is a crime that no human should ever commit. Dogs eventually becomes attached to their owners and, just like people, they experience powerful feelings towards us. To decide to abandon a dog is to forever hurt the feelings of a creature who feels only affection and extreme fidelity towards you. Like the dog featured in this moving abandonment story that took place in Mexico City some time ago.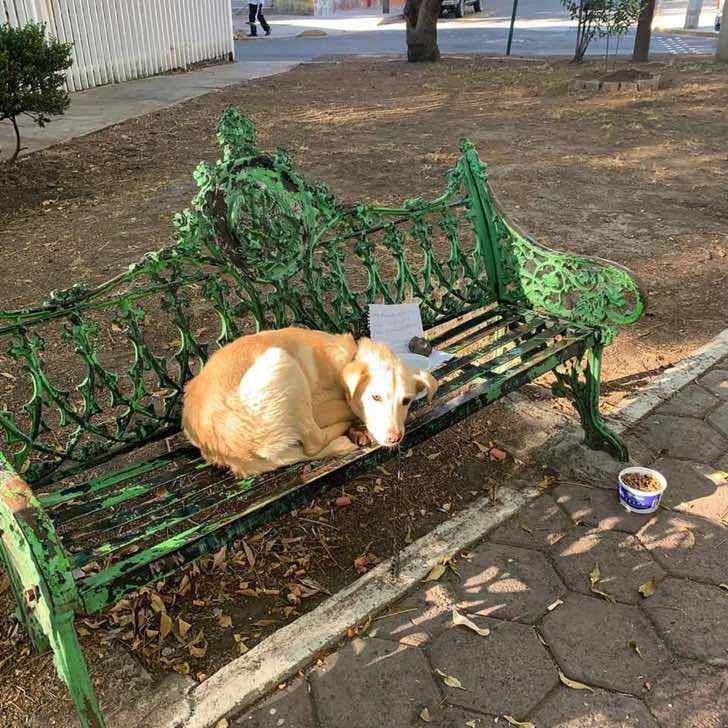 The Mexican association that safeguards stray animals, Mascotas Difunde, posted on its Twitter profile the harrowing images of a dog that had been abandoned on a bench with a letter beside it to touch the heart of the reader. The words written on the note said, "Leaving my puppy here hurts a lot, but I decided to leave him because my parents abused him and it always hurt me to see him in those conditions. So if you read this and feel anything in your heart, please adopt him, take care of him and if not, leave him where he is for others to find him and adopt. "
The words of the ex-owner of this sweet dog immediately made the rounds of the internet after the publication of the photograph on Twtter, until the news of the dog Max's abandonment reached the Mascotas Coyoacàn refuge, who did their utmost to send some of their volunteers to the park where he had been tied with a chain to the bench next to the letter, so that he could not run off and risk his life wandering on the street.
After having managed to free him from the chain and befriend him with cuddles and some food, Max was won over by the volunteers, followed them meekly, got into the car with them and headed for the refuge. After several vet visits, the abandoned dog is now well and is waiting for a new loving family to adopt him.
It is still unclear whether the ex-owner really had no choice but to abandon him on a bench and beg someone to adopt him, but the fact is that, according to the words written on the sheet of paper, Max the dog now seems finally to be away from a family situation of abuse and mistreatment.
Despite everything, perhaps that poignant letter has worked its magic and has given Max a better life.