18 women who revolutionized their looks thanks to the skill of a famous make-up artist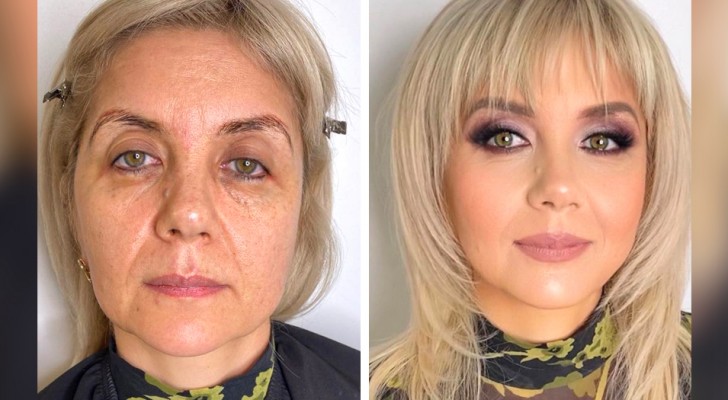 Advertisement
It is undeniable that a little make-up, especially in the early morning, helps us to feel a little better about ourselves. Dark circles, facial imperfections and messed up hair can greatly undermine a person's self-esteem, especially in the darkest moments of their life. In particular women would like to always feel at ease with themselves, if not "perfect" aesthetically. On the other hand, human beings aspire to perfection, even if they knows they cannot reach it. A talented makeup artist named Goar Avetisyan, from Moscow, Russia, has opened an Instagram channel in which she demonstrates how, thanks to her fantastic makeup artist skills, she manages to bring a smile to those women who felt lost and dissatisfied with their look.
via Instagram / goar_avetisyan
Advertisement
1. A beautiful transformation for a young girl
2. The lady didn't even recognize herself in the mirror after the make-up session!
Advertisement
3. Sonia is 17 and wanted to change her look a little ... look how beautiful she is!
4. "She is our cleaning lady, she had never even dreamed of asking me to transform her ... today I put on her makeup and she started to cry with joy!"
5. "This was the first model I made up during my masterclass in New York"
Advertisement
6. How about this transformation, how would you grade it from 1 to 10?
7. The make-up artist herself loves to experience the magic of make-up on her own face!
Advertisement
8. A fairly delicate make-up, which enhances natural beauty and hides small imperfections
9. Makeup and hair for this girl who looks ready to walk down the aisle!
Advertisement
10. This transformation was accomplished during a masterclass in Germany ... there were people from all over Europe who wanted to have their makeup done
11. Better with or without makeup?
12. Make-up that seems to function as well as a facelift on certain occasions ... truly amazing!
13. "A wonderful job that gives incredible results"
14. Goar, the make-up artist, is always delighted when she manages to satisfy her most demanding models with great make-up
15. Here too, Goar has done a terrific job
6. Look how skin imperfections disappear!
17. Perfect skin after the make-up session
18. More subdued shades, for evening ... what do you think?