20 women who felt they needed a change and revolutionized their look
1. "Irina came to us from Moscow. We wanted to emphasize the beauty of her eyes and make her image modern and elegant!"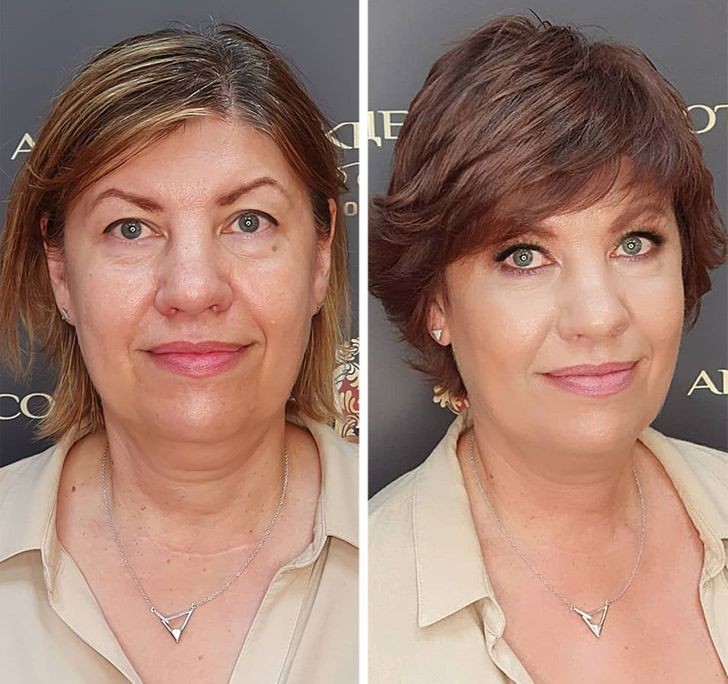 2. "Polina lives and works in Moscow, she is a designer. She is a creative, elegant and very lovely woman. This is why we wanted to make her image bright and 'artistic'!".
3. "Marina discovered our project thanks to her children, who convinced her to come to us. We wanted to enhance her personality and femininity"
4. "Galina has a daughter who is about to get married ... yet she looks like a bride herself!"
5. "Olga works as a pediatrician and is the mother of 3 children". Definitely a more sparkling and fun look!
6. "Olga comes from Kirov. She is a business woman and mother of 2 children, now adults. Unfortunately we cannot give the age of our participants, but for sure you would be surprised!"
7. "Elena received our advice as a gift from her daughter. She has had this hair color and cut for many years, but we decided to give her a more attractive image."
8. "Svetlana came to us from Belyov. She is a mother of 2 and is currently on maternity leave. She was looking for new color and emotions in her life"
9. An Incredible Transformation: Look what a beautiful haircut!
10. "Yulia comes from Obninsk. She is a lawyer and the mother of 2 children: what a beautiful woman!"
11. Ekaterina was hesitant but in the end she was brave enough to take part in the project: She came and said: "I want to be bright and modern". We kept her natural curls and emphasized her glowing beauty without going overboard with makeup.
12. "Olga decided to make a change and wanted to treat herself to a makeover for her birthday!"
13. The magic touch from 2 professionals was enough for a complete change!
14. "Alexandra had been following our project for a long time but never dared to take part in it. Then one day she realized it was time for a change!"
15. "Inna is an elementary school teacher. She came to us from Moscow for her birthday!"
16. Ekaterina lives and works in Tula. She is a mother of 4 and had already had a makeover with us 2 years ago. Now she decided to try that adrenaline rush again! "
17. Olga received this makeover from her mother for her 18th birthday!
18. What a beautiful transformation!
19. Valentina also received this wonderful gift from her children. She is very shy, but we wanted to make her image brighter and sunnier! "
20. Ludmila also received the treatment as a gift from her daughter Nadezhda, who just wanted to cheer up her mother a little.