He is disabled and she is not: they marry against all prejudice, proving that love can overcome any obstacle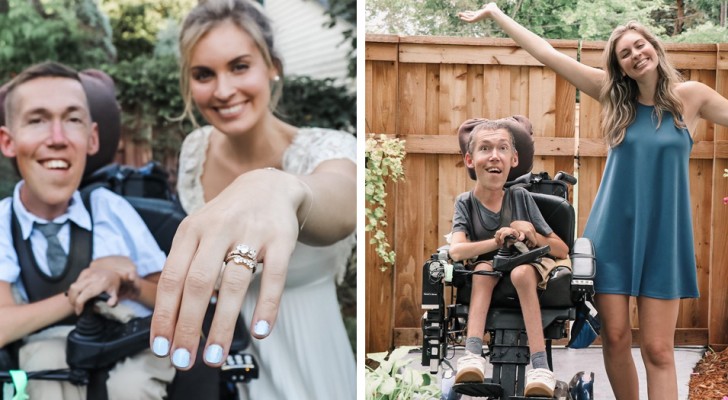 Advertisement
Love is such a powerful feeling that it can overcome any obstacle and break down any barrier. Shane Burcaw, 27, and Hannah Aylward, 24, know this all too well. Shane suffers from spinal muscular atrophy and has been using a wheelchair since the age of 2, while Hannah is the typical athletic, tall, blonde girl who could have anyone falling at her feet. Despite their obvious physical differences, the two young people are linked by a deep friendship and a love that overcomes all barriers. On September 4, 2020, Shane and Hannah got married in a private ceremony, crowning their dream of love and overcoming all prejudice.
Advertisement
Although Shane was born with spinal muscular atrophy, he never allowed his physical condition to stop him from doing anything. A very touching documentary was also made about him which, evidently, must have reached Hannah Aylward, who got in touch with him via e-mail, reporting her incredible admiration. At the end of the letter Hannah had written: "PS. I think you're cute!". From that moment on, the two began to write each other more regularly, until finally a flame was sparked.
Shane and Hannah moved in together, and started producing videos on Youtube in which they tell of the dynamics of their relationship and how it is dealt with by both sides. Their channel immediately received thousands of visits, but the fame, as we know, can also attract the usual trolls who never miss an opportunity to insult and condemn situations they cannot fully understand. After the announcement of their marriage and, above all, after carefully observing their videos, many of these "haters" changed their minds and commented on how sorry they were about their behavior.
Advertisement
Shane's life is certainly not easy: just think that his body resembles that of a boy, while his face resembles that of a man. When out and about on the streets of the city, many believe Hannah is his mother or just his carer. Nevertheless, this guy has never stopped living his life to the fullest and has never been discouraged by this condition.
Now that he has finally married his best friend and the love of his life, he is truly complete!