She loses her memory in a terrible car accident and forgets she has a fiancé: he sticks by her everyday to help her regain her memory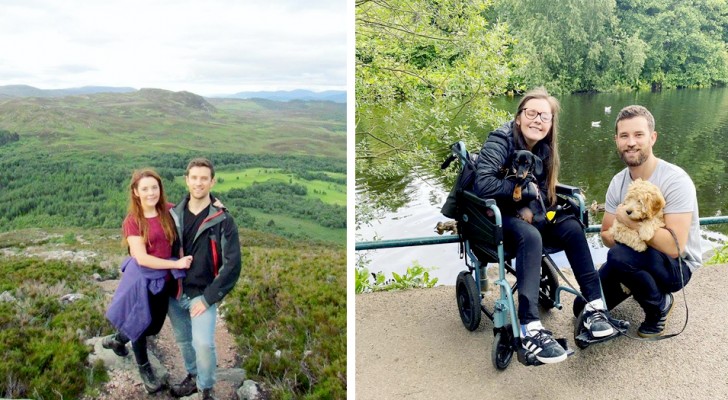 Advertisement
In the film Fifty First Dates, Adam Sandler falls in love with a woman, played by Drew Barrymore, that wakes up every morning and forgets everything that happened the day before. Everyday, he has to remind her how much he loves her and how much they've done together, despite her illness. 
Although this film is based on fiction, there are many couples who have to live their lives like this. Each morning, when they wake up, the person's partner has to explain who they are. And who knows for how long they'll have to do this. In any case, it takes a lot of patience on their part and, like in the story we're about to recount, there's at least a happy ending. 
via The Sun
Advertisement
It was 2016 and Rebekah Nesbitt and her boyfriend, James Anderson, are so in love that they can't wait to get married. All that, however, changed, when Rebekah dropped James off at the gym a few blocks away from their house. Moments after she dropped James off, Rebekah had a serious accident, which left her in a coma for several months.
Once she reawoke, she could no longer remember chunks of her life, like meeting James. The two had already been together for 4 years and had just bought their first house together. Recently, James had taken her to London, where he asked her to marry him at Hyde Park, but none of that rang a bell to poor Rebekah.
Rebekah doesn't even remember anything about her period in the hospital or anything about the accident. She vaguely remembers swerving in order to miss a cat, but she feels like that could just be the explaination her brain created for her to make sense of everything that happened.
Rebekah reawoke on Christmas Eve, which was the greatest Chistmas gift her family and James could have received. Waking back up meant that she had to start many things all over... like learning how to do everyday tasks that we take for granted (e.g. walking, eating, drinking, bathing, ecc.). She even had to fall in love with James all over again, given she had no recollection of who he was.
And James stuck by her side through every moment since her accident. He was with her every day while she was in a coma, and has been with her every moment since she has woken up. While she was in a coma, he played her her favorite songs from her favorite Disney movies; he didn't know if they'd actually help her, but he did it anyway because he loved her.
Now Rebekah is working on her recovery... it's a reality that is difficult to swallow at times, but she and James are hopeful for the future. Fate may have taken certain abilities away from her, but James's love for her is getting her through her recovery. Good luck, you two!