Husband builds a rickshaw for his sick wife: "she can't walk, but we haven't given up on our walks"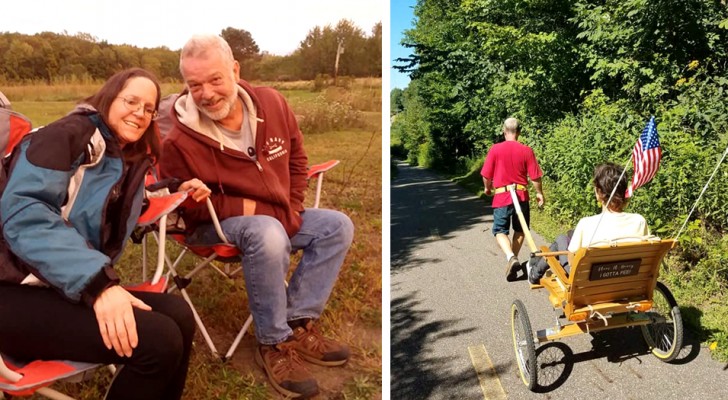 Advertisement
Love is a wonderful thing and affects all of us differently. When you love someone deeply, there are many ways to show them and make them realize how strong our affection is towards them. The subject of this story had a very original and useful way to show his wife how much he cared about her.
Lovers of long walks in nature, these couple had to suddenly stop this daily habit due to the wife's multiple sclerosis. This is where her husband stepped in and did something extraordinary to alleviate his wife's suffering. Let's see what it was:
via Faith Pot
Advertisement
Rick and Jan Dorothy met when they were both still married, but something told them they weren't going to be just friends. At first, they went on with their respective lives, but after divorcing, they started dating, got married, started a family and had two children.
"We've had many difficulties in our life," said Rick in an interview. "But we have always supported each other. When Jan was expecting our first child, I lost my job and we were struggling. But we never gave up. Whenever there was a problem to be solved, like this one, we took long walks during which we brainstormed and looked for an ideal solution".
These walks became a habit for the couple. Unfortunately, something unexpected and unpleasant happened that presented a huge challenge. It was during one of her walks in nature, that Jan began to feel something wrong with her right foot. At first the two did not pay too much attention to the matter, but when symptoms appeared in her other foot, they decided to see a doctor.
This is how they discovered that Jan was suffering from multiple sclerosis - a serious condition which meant, eventually, she would no longer be able to go walking. But could Rick ever allow such a thing to happen and destroy their everyday life? Absolutely not, and this is why he tirelessly searched for a solution. And he and found it.
"I swore to myself that I would do the impossible to allow her live a normal and peaceful life," said the man. "One day, I was watching an old program on TV and I saw a Chinese rickshaw. From this I got the idea of building one for my wife so she could go on our walks again. At first, our children were skeptical, but my wife never questioned the wisdom of my plan - not even the first time we tried it out".
Advertisement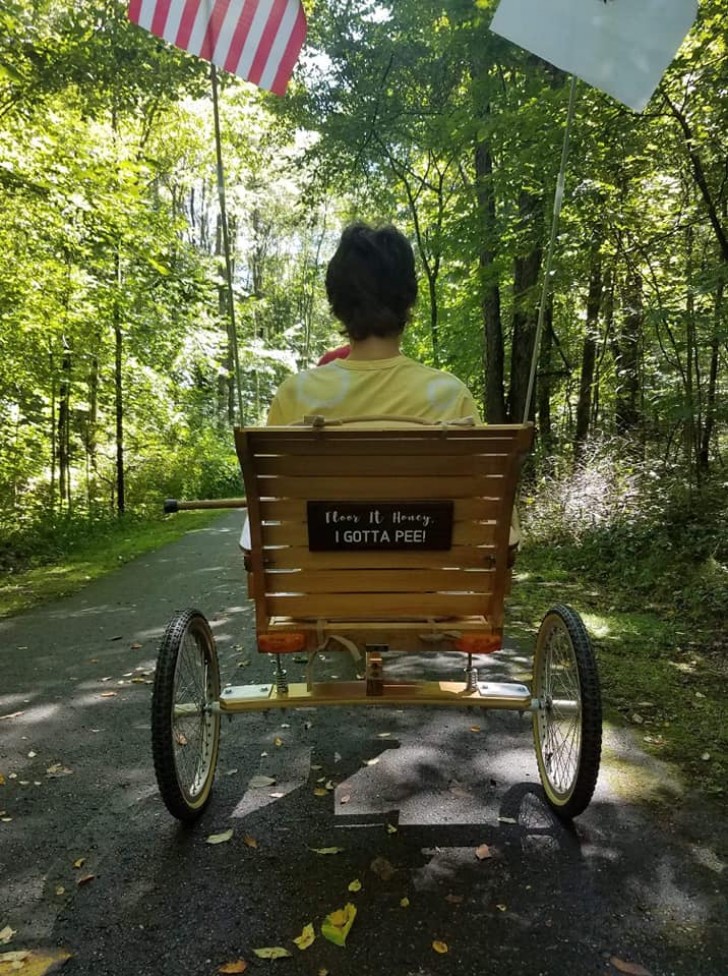 There could be no greater demonstration of love from this man towards his better half. He could have given up the walks with his dear wife, but he refused to give up in the face of this challenge.
His gesture of love touched the entire web and shows us that love conquers all, don't you think?