I'm his wife too!": newlywed's mother-in-law grabs her sons hand during wedding photos
Anyone looking to make their marriage function knows they have to try and get along with their in-laws. Bending over backwards to make them happy, however, doesn't sound like the makings of a great marriage. But what do we know. One thing is for sure, though. Mothers-in-law are notorious for making their daughters-in-law's life difficult. They can cause unnecessary fights and misunderstandings between the two, and most of the time they're not even sorry for it. Take this mother-in-law for example. On her son's wedding day, she made it clear to his new wife that she was "his wife too."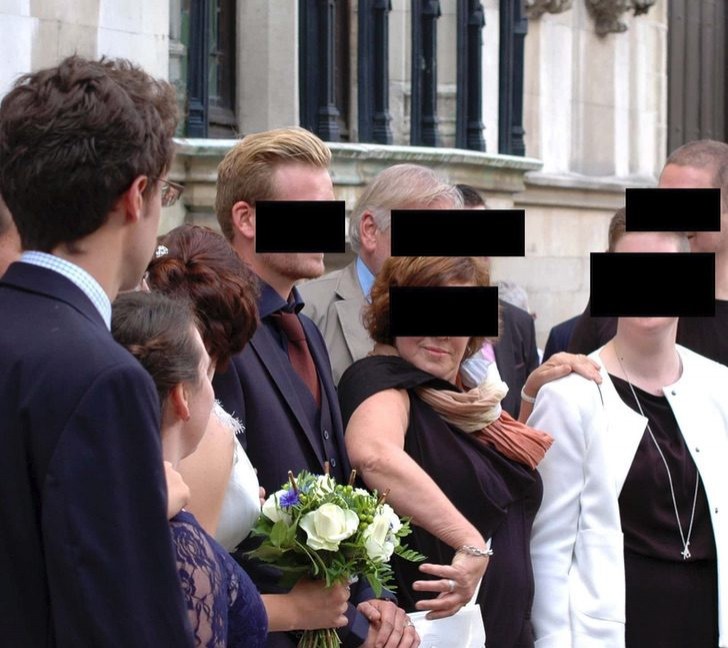 This particular story was posted anonymously on Reddit. The Reddit user posted two wedding photographs with a caption reading, "I'm his wife too!". She explained that the family was taking a photoshoot together with the entire wedding party. At one point, the photographer wanted to get a picture with just the bride and groom. Apparently the groom's mother wasn't happy about this and proceeded to grab onto her son's hand and exclaim "I'm his wife too."
Embarrassed by the remark, the bride could do nothing else but grab onto her husband's arm and lower her gaze to the ground.
The Reddit user also stated that this was only one of the many scenes that the groom's mother made during the ceremony. To make matter's worse, the woman had also written the Reddit user a long message Facebook that was wrong on so many levels. The Reddit user explained, "She [the mother-in-law] wrote me a long message on Facebook the day before the wedding, saying how everything was just great and felt like she was falling in love all over again. She also stated in the same message that she hoped I would wear something that matched "her outfit" the day of the wedding. In other words, she was hoping that I'd be on her side during the wedding cerimony. I'm not joking."
The Reddit user marked out the faces in the photos for privacy reasons. Clearly, what this mother hasn't quite understood is that a marriage is between two people, and not those two people and their mother. Not all mothers-in-law are like this, but situations like this happen more than what we'd hope. Why doesn't it happen with more fathers-in-law, we wonder?