A little boy hugs the pizza delivery man without knowing that the man had recently lost his daughter
Kindness is a precious asset, which must be safeguarded and passed on to future generations.
In fact, selfless acts of kindness help to improve our quality of life and make the world a better place to live. And precisely because of their beauty and inspirational nature, unexpected acts of kindness make the news.
Therefore, it is not surprising if the video of a little boy who hugs a pizza delivery man, who had recently lost his daughter, has been posted around the Internet, collecting consents and shares on social network platforms.
Certainly, we can never know for sure what some people are really going through, even if we see them every day as acquaintances or colleagues because we do not know them as friends.
But that should not matter because the main thing is to always be kind—it is kindness that we need.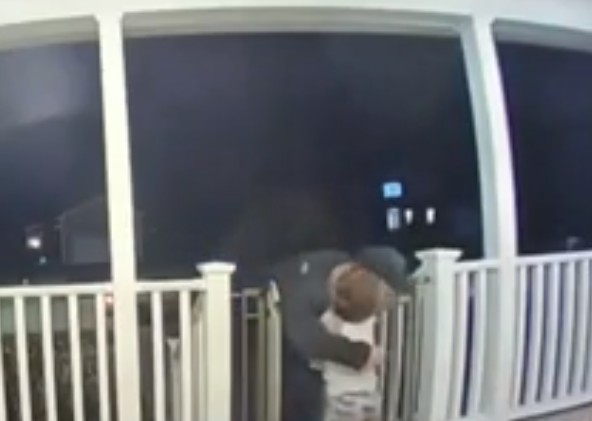 That moment of kindness was so touching that little two-year-old Cohen's mother is very happy that their doorbell
security camera video
immortalized it by automatically filming the interaction.
The man involved nicknamed "Pizza Man" has been identified as Ryan Catterson, and he is the man who showed up at Lindsey Sheely's home at 7 o'clock that evening to deliver the pizzas.
After Lindsey had answered the doorbell and received her pizzas, her little two-year-old son Cohen suddenly ran out the door and up to the pizza delivery man as he was leaving and gave him a spontaneous and very friendly hug.
Lindsey and her family were absolutely unaware that the man had lost his daughter only a week before and they could not imagine how much emotional pain he was experiencing.
Ryan
added Lindsey to
his Facebook
after the woman posted the video on the well-known social network. And that is where the woman learned
how much that gesture meant to Ryan
at the time.
"That hug we thought was just a cute and funny gesture actually meant a lot more to Ryan. When I found out, I couldn't believe that man was going through the most devastating thing that could ever happen in the life of a parent —who must, nevertheless, continue to live. His life had to go on, and he still had to work as a pizza delivery man. You never know what people are going through," said Lindsey.
Little Cohen's spontaneously kind and sympathetic gesture helped Ryan and his family in a difficult time. And the video that has been seen by countless users has allowed Ryan to tell and share his poignant story.
In response, a
fundraiser
has been organized to pay for the funeral of Ryan's young 16-year-old daughter who passed away unexpectedly.