This woman recognizes the photo of her pit bull dog that she had lost three years earlier on a beer can
They did not know where the female pitbull dog had come from and how long she had run away from home.
But the fact is that at the Manatee County Animal Services shelter, a pit bull dog had shown up in search of food and a roof under which to stay.
The volunteers at the Florida animal shelter immediately decided to take care of the dog and to search, by reading the microchip, for the owner who had probably lost her.
The search for the owner later led to some very interesting discoveries.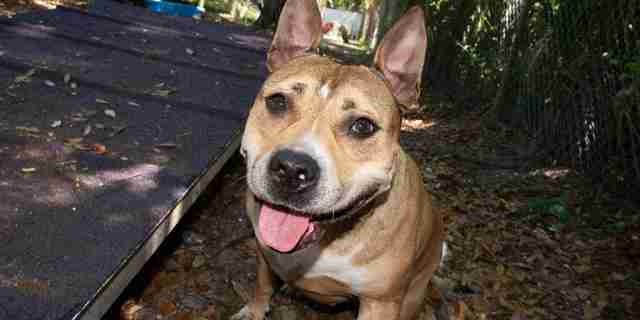 Monica Mathis was the name of the owner of the pit bulldog, that in the Florida animal shelter had been renamed Day Day.
But the woman's data on the dog's microchip had not been updated recently so it was not possible to contact her immediately to solve the mystery of where the dog had been lost!
Therefore, the Manatee County Animal Services thus decided to collaborate with an initiative promoted by a local brewery.
This beer company called Motorworks Brewing had decided to help encourage donations and the adoption of dogs left in the local animal shelters by publishing the photos of the abandoned or lost dogs on their special beer cans.
It was precisely during the promotion of this initiative online that Monica Mathis saw, among others, Day Day's photo on one of Motorworks Brewing's special beer cans!
In fact, Monica who was then living in Minnesota—while looking at the photos of dogs on the special beer cans, suddenly recognized among the photos, her female pit bulldog, Hazel!
For Monica, there was no mistake, the dog in the photo on the beer can was her lost female pit bull dog Hazel that had vanished in 2017 from her front yard when she lived in Iowa!
Through photos and veterinary records, the animal shelter in Florida was able to verify Monica's story and the animal shelter staff was thrilled to have finally found Day Day's (now Hazel's) owner.
Now there was only one last fundamental thing to do to bring this story to a truly fortunate ending!
That is to say—safely transfer Hazel from the Florida animal shelter to Minnesota, where the pitbull dog would finally be able to embrace her owner again.
Yes! This is an incredible story with a happy ending for Monica and Hazel—separated for three years, and divided by several states, and long distances but finally finding each other again ... thanks to a very special beer can!