A man accidentally bought an inflatable Santa Claus as tall as his house
Online purchases are now within everyone's reach and are often preferred to brick-and-mortar purchases, for obvious convenience.
One of the disadvantages of shopping on e-commerce platforms is the fact that you cannot touch and see the merchandise with your eyes and, no matter how detailed the description, there may still be surprises.
For example, a man accidentally bought a giant inflatable Santa Claus on the Internet. How big? This enormous Santa Claus is 24.5 feet tall (7.5 meters), or the same height as his house!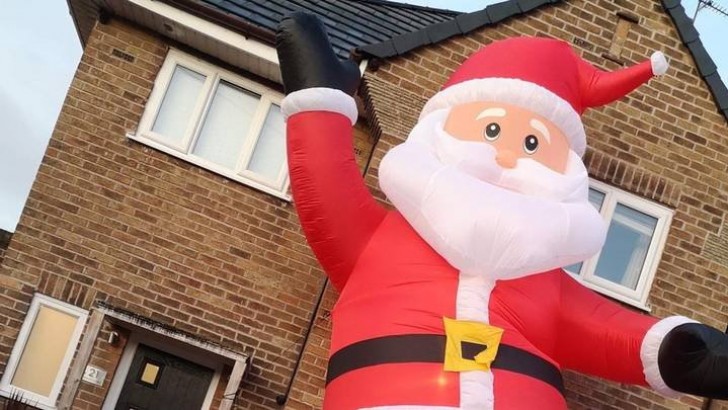 image:
Kennedy News & Media
Matty James is the name of the man who for Christmas decided to beautify his outdoor home decorations with an inflatable Santa Claus.
However, he realized that he had made a mistake and had purchased the wrong size only when the package had arrived and when he started filling the inflatable Santa Claus with air. "I was wondering if it would ever stop growing," said the man.
"I thought Santa Claus was just 8 feet tall (2.5 meters) but I realized he was much bigger as soon as I took him out of the box!".
In addition, Matty James says that he is already known in his neighborhood for doing extravagant things, but this time he really left everyone astounded by his giant Santa Claus as tall as his house!
image:
Kennedy News & Media
Unfortunately, Matty James had to deflate the blow-up Santa Claus for a few days due to windy weather conditions, which risked sweeping away the inflatable Santa Claus and his whole house to which it was anchored.
But there is another factor that convinced James to deflate the blow-up Santa! "When I got up in the morning I would see his head eclipse the window. And when I went downstairs there was his backside in my face!"
Definitely a fail - which is what a purchase is usually called that does not turn out to be what you expected it to be.
However, one thing is certain: the real Santa Claus will not fail to notice Matty's house as the right place to drop off his Christmas presents!