Students surprise their teacher who is ill by organizing a Christmas choir in her garden
Do you know those Christmas films in which groups of children gather to sing Christmas carols outside in front of houses?
We usually do not see these scenes in reality, right? Well, in Vancouver, it actually happened - and for a good cause.
Dozens of little second-grade students showed up in front of Laurie Burpee's home, their beloved teacher who is absent from work because she has cancer and is undergoing treatment.
Her young students came to show her their support and affection. At the sight of all those little students, Laurie Burpee cried with joy.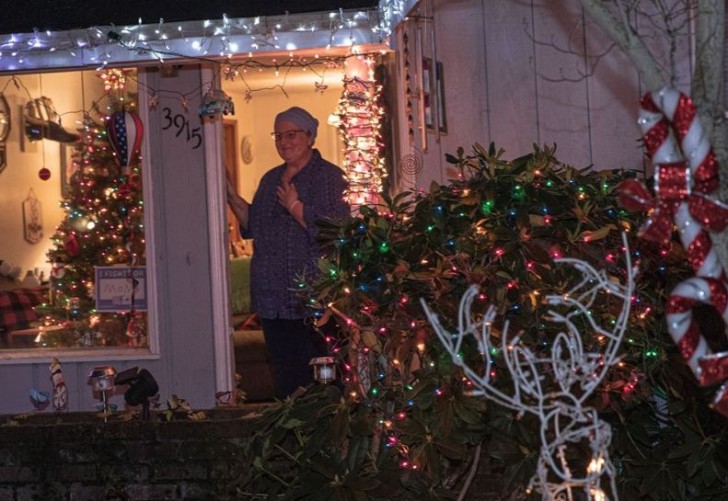 When Laurie Burp glanced out of her window and saw a lot of little Santa Claus hats and several burning candles approaching her home, she immediately came out of her house to see what was going on.
"I thought: Hey, there are children out there and then - there are MANY children out there," said the teacher, thrilled. "And when I went to the door and saw that they were the students from my school, and I started crying with joy."
The teacher was diagnosed with cancer in May and has had six cycles of chemotherapy since then.
When she was forced due to her health issues, to take a leave of absence from the school earlier in the year, Burpee had to leave around 30 second grade students but she also left them with a great legacy: her kindness.
"She is so kind and loving," said York elementary school principal Dawn Harris. "She reminds us that we must be kind every day ... and we continue to live in this spirit, every day, in our school, thanks to her."
Harris, who had previously worked with Burpee in another elementary school, helped organize the small Christmas choir surprise after the parents of one of Burpee's former students proposed the idea.
In addition to the choir, the children and parents had also organized another surprise - because suddenly, several police cars started coming down the street!
Immediately, Burpee thought that perhaps all those policemen were coming to silence the noise and put an end to what was happening, but, in reality, the reasons were very different.
The police officers were not arriving to handle a "disturbing the peace" call from someone in her neighborhood, ― as the teacher feared ― but to give her what the police officers said was their "911 Kindness Citation".
The citation read: "You are the embodiment of kindness and have a positive impact on every person you know ... and many others you don't know. Thank you for being an example of kindness, compassion, and goodwill. Even in the face of overwhelming and difficult circumstances. You will always be a light for everyone. Thanks for your commitment to your students and their families in York. Let this night always remind you that you are never alone: We are looking forward to accompanying you through your metamorphosis because you will surely be a beautiful butterfly."
"It was simply beautiful, a wonderful thing, an incredible surprise," said Burpee. "The best part was the kids. I miss them so much ... and I also miss my colleagues."
Laurie has truly left her mark on her community and students. We hope that she gets well soon!