Mom surprises her son as he leaves school by bringing back his dog that had been lost two weeks earlier
When you lose a dog you are very fond of, it is as if you lose a part of yourself.
If suddenly, we can no longer find our four-legged friend anywhere, we start looking for him or her and when there is no trace - it is normal to fall into a state of anxiety and depression that makes our days gloomy and sad.
Carter Licata, a young boy from Michigan, knows very well what it means, to from one day to the next, no longer have the privilege and joy to have by his side Piper, his nice little two-year-old female Pug dog.
Unfortunately, the search for Piper had led to nothing. However, just when the Licata family had feared the worst, the unthinkable happened.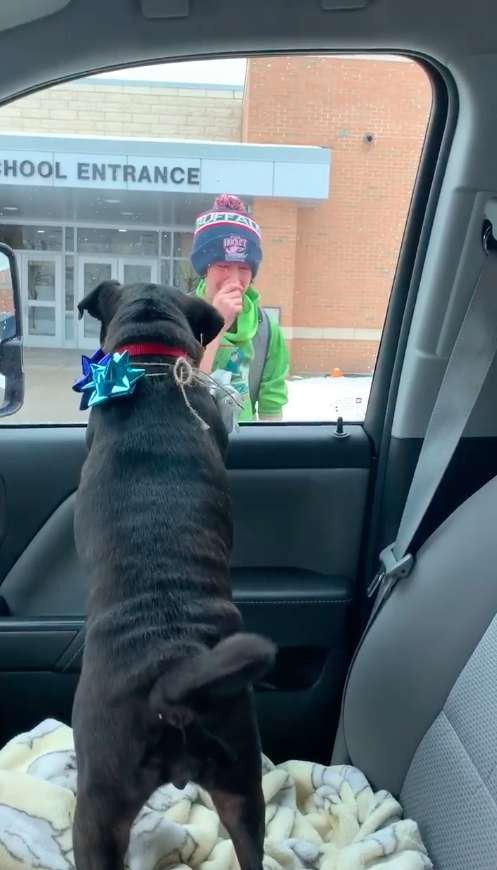 In fact, despite posts on social media platforms, help from neighbors, and alerting groups in their local community - all of Carter's mom, April's efforts to find the missing dog had proved to be useless.
As expected, the situation had thrown everyone into despair. Especially Carter, who due to being very fond of Piper, had really experienced a period of real depression, fearing that he would never see his beloved dog again.
One day, however, April received a Facebook message from the Genesee County animal shelter. A dog that matched Piper's description had been left at the facility by a person who preferred to remain anonymous.
Consequently, April and her husband immediately decided to go and get Piper, while secretly keeping it from their son Carter, because they wanted to give him one of the most beautiful surprises that he could ever have wished for.
this boy got the best surprise when his dog piper, who had been missing for two weeks was there to greet him after school
(April Elizabeth Licata FB) pic.twitter.com/C7VXWCINDL

— Humor And Animals (@humorandanimals) 16 dicembre 2019
It is not difficult to imagine Carter's reaction when, after leaving school, he saw his little dog Piper in the front seat of the car, "dressed up" with a bright and cheerful ribbon around her neck!
The young boy immediately burst into tears, and could not help but embrace his little four-legged friend with joy, who in the meantime was covering her human friend with lots of licks and kisses!
A truly wonderful gift for Carter, who fortunately was able once again to embrace his beloved dog, Piper! Now they can hopefully spend many years together and this experience of having once lost her will soon become only a bad memory.