Homeless young man is filmed celebrating his dogs' birthday: they are his only family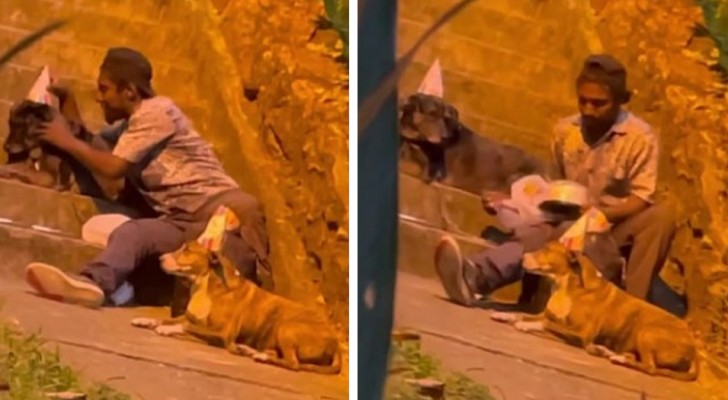 Advertisement
It is no coincidence that dogs are man's best friend and it is also no coincidence that many homeless people have a four-legged friend by their side. Although caring for an animal involves additional costs that are difficult for a homeless person to cover, the presence of a dog greatly raises the spirit of those in need. That's why Choco, a homeless boy, was filmed celebrating the birthday of one of his two dogs on the steps of a public park. This is a truly moving scene, which prompted many followers to help the boy and change his future forever.
via Instagram / joseluis.matos.7906
Advertisement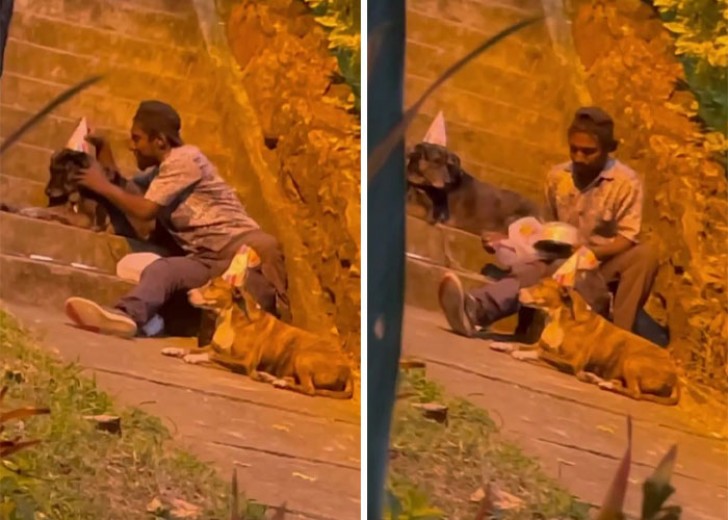 Instagram / joseluis.matos.7906
Every decent birthday needs a cake with candles and, perhaps, some balloons (or other decorations) to create the right atmosphere. And these are items that even Choco, a homeless, indigent young man, got for his dog's birthday: Nena and Shaggy, two large dogs who accompany him at all times. Choco was caught on camera by a passer-by, on the day of Shaggy's birthday - a special moment that the homeless man wanted to celebrate properly with his four-legged friend and companion.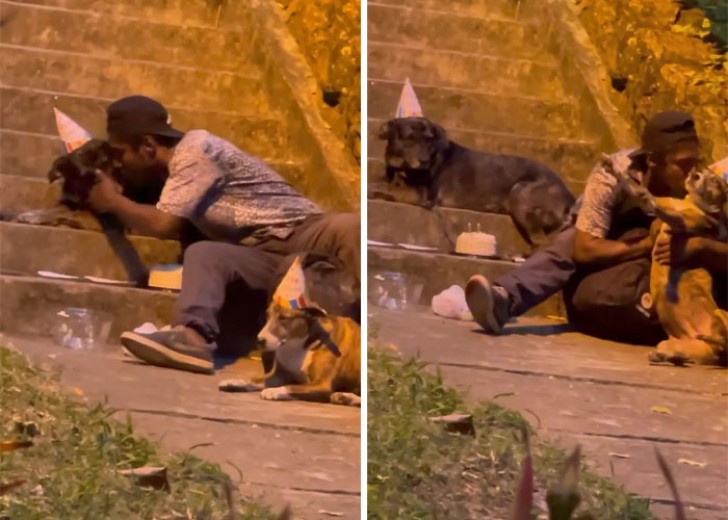 Instagram / joseluis.matos.7906
In the video that went viral, Choco is seen sitting on the steps of a public park, along with his two faithful, furry companions - Nana and Shaggy. The young man put two hats on the dogs' heads and sang the song "happy birthday" while taking a small cake from a box for them all to share. The boy gives his dogs their much deserved piece of cake and then cuts a smaller piece for himself. In all likelyhood, Choco had spent all his savings to buy the cake complete with candles and party hats. But for him, it didn't matter, because it is thanks to the presence of his dogs that the young man manages to keep going with a smile on his face and despite not having a roof over his head.
Advertisement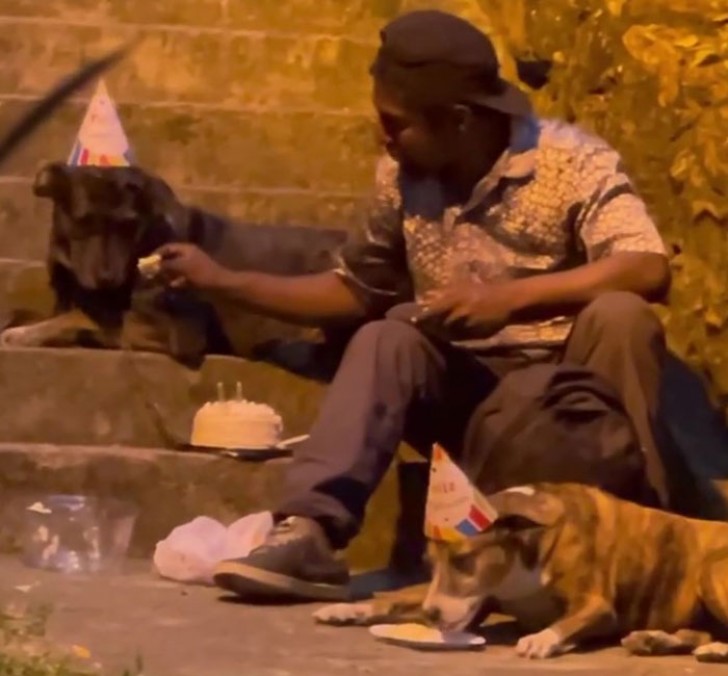 Instagram / joseluis.matos.7906
For him, it was the proper way to thank his animals and honor them. At one point in the video, it seems that he himself is moved by emotion and wipes a tears from his face. The man who filmed the scene then approached Choco to learn about his story. It seems that Choco has escaped from a very complicated family situation, in which he was being mistreated, and that in recent years he has lived on the streets. His only family now were just Nena and Shaggy, his two dogs.
The video went viral and immediately reached many people, who donated everything possible to this humble boy. Food, money, clothes, basic necessities: a chain of solidarity started immediately to help Choco get back on his feet. Among the various gifts, a phone was also donated. Thanks to the phone, Choco was able to open an Instagram account where he could share his daily adventures; to date, Choco has over 180 thousand people join his account as followers on social media!
Thanks to the video, Choco gained a large audience and with the help he received from all over the country, he was able to get back on his feet. He would like to devote himself to music and open a dog shelter, of course. We can only wish him the best for his future!