This woman is about to give birth to her 22nd child, becoming the mother of Britain's largest family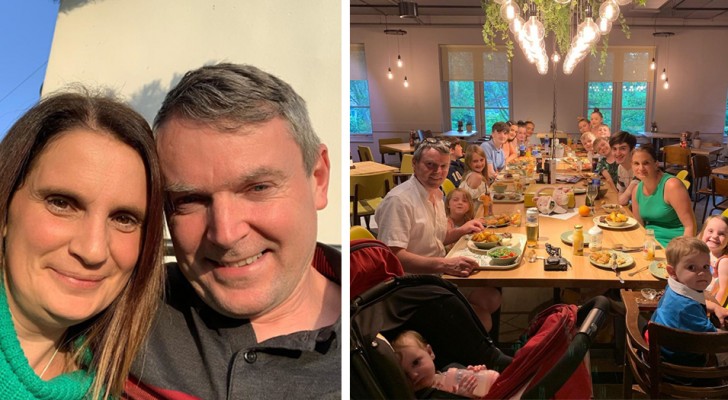 Advertisement
There are those who do not have any children and those who have decidedly "too many"! In life, it is not always possible to find a happy medium.
Sue Radford definitely falls into the second category - the woman definitely does not have a family like any other, especially since she is the mother of 21 children!
A supermom who, after proclaiming that she no longer wants any more children, is now pregnant with her twenty-second child. The 44-year-old English woman and her husband Noel, together are the parents of a giant family.
Advertisement
It is not yet known if the unborn child will be male or female, but what is certain is that it will be added to all the others.
The two older children, Chris and Sue, have already formed their own families and both have children, while all the others still live together under one roof in Morecambe (UK).
The woman swears that she had made up her mind that she didn't want any more children, but things seemed to have changed quickly.
"I won't miss being pregnant at all", the 44-year-old English woman had declared a little less than a year ago, to the midwives who had asked her "will we see you again next year?", and Sue had replied with a categorical, "No!"
Advertisement
The family spends around $450 USD (£350 GBP) each week just to eat, but for a dinner away from home they pay a bill of almost 193 USD (£150 GBP).
We dare not imagine what it would be like to go on holiday together. Furthermore, the house needs to be cleaned every day. In fact, to make and keep it livable, you need to dedicate at least 3 hours for cleaning every day.
This curious lifestyle was a choice made by the two spouses, who met when they were very young. Sue was 14 years old when she became pregnant for the first time with Noel, who was 18 at the time. The two (both adopted) decided to keep the child and to get married, despite their young age.
The Radford family is very active on social media, especially on Instagram, where they have 154,000 followers.
In fact, many people are very curious and love to peek a little into the life of such an anomalous family.
The mere thought of washing machines and preparing dinner makes us wonder how is it possible for one woman and one man to have managed such a situation!
Naturally, we wish all the best to this family and a special blessing for their unborn child that is on the way!
Advertisement