This baby was born with gray hair due to a rare very low concentration of melanin
Uniqueness is something that distinguishes each of us. Everyone, in their own way, has characteristics that individualize them and differentiate them from other people.
In fact, this is one of the most beautiful things in life: the variety of characters, physical aspects, and points of view that all contribute to our enrichment.
And sometimes it can happen to that we come face to face with incidents and people that remind us of what we have just confirmed, and how much we should appreciate variety.
Case in point is Bence, a baby boy born in Hungary, in the town of Székesfehérvár, about 40 miles (65 km) from the capital Budapest.
Let's see what is his incredible and fascinating peculiarity!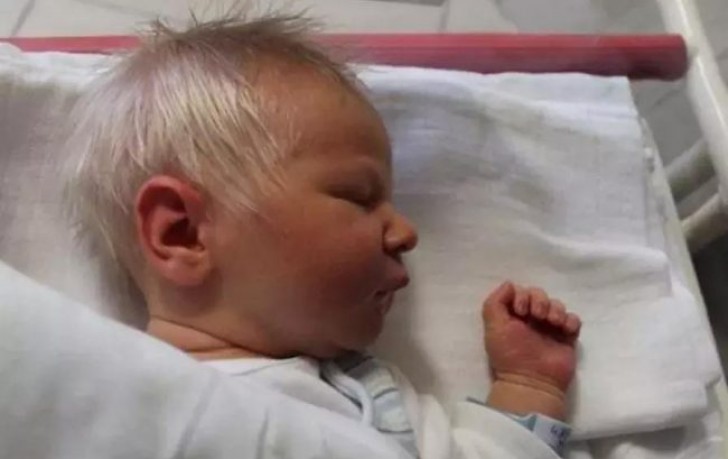 For the baby's mother, the pregnancy went well, without any particular problems or complications. At birth, however, a particular physical trait of the baby left both parents and doctors literally speechless.
In fact, Bence, at birth was 11 lb and 21 inches long (5 kg and 53 cm) and was born with a full head of hair ... that was pure white! That's right! The thick hair on his head had no color, or rather it was "dyed" an incredible silvery-white.
The doctors immediately ordered a variety of examinations to be carried out, in particular, the tests to determine if the newborn baby's hair color was due to albinism.
But they discovered that was not the case, because Bence is not albino, as his skin has melanin pigmentation. However, from blood tests, it was found that the melanin levels are quite low.
So it is as if, in this very special baby boy, the concentration of melanin was missing only from his hair. However, this is a rare condition, which has been studied by many doctors, interested and intrigued by the medical history of the little Hungarian baby.
According to Dr. Kummer, who has followed the case, the levels of melanin in Bence's hair could increase over time, causing it to color over the years. Meanwhile, fortunately, the baby is in excellent health.
One thing is certain: the images of this beautiful and very special baby have attracted the attention of countless people due to the Internet where his photos have been posted and shared many times, enchanting and intriguing many people.
The nurses in the hospital pediatric ward where the baby came into the world immediately nicknamed him "Prince Charming"! And the name seems quite apt, given his beautiful "fairytale-like" physical appearance!