This woman gave refuge to 97 dogs in her home to save them from the fury of Hurricane Dorian!
For those who love animals, they come first! Even, before the love and affection of friends and family, the well-being and protection that the neediest four-legged friends require have top priority.
This is true, even when confronting the unrelenting force of Nature. Certainly, this is what happened to Chella Phillips, a Bahamian woman who decided to give refuge to 97 dogs in her home and save them from the fury of Hurricane Dorian.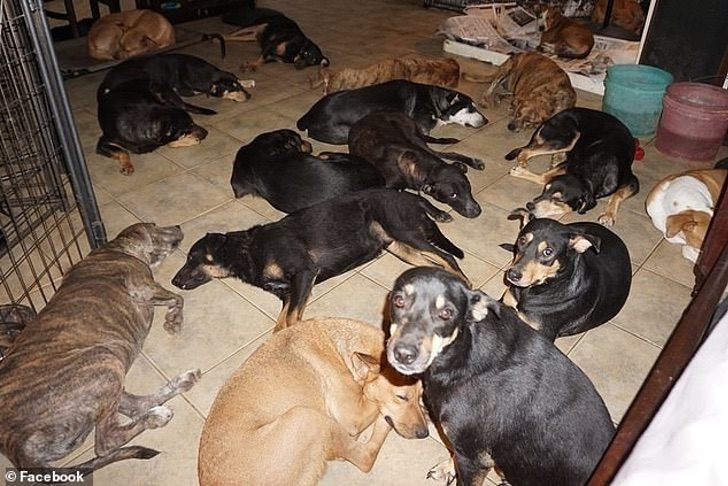 Chella in the last four years has always done her best to save the lives of abandoned animals most in need.
In fact, her extraordinary sense of courage and altruism towards the weakest and defenseless creatures also manifested itself on the occasion of the devastating Hurricane Dorian that hit the Bahamas.
In the first days of September 2019, Hurricane Dorian unleashed its fury on the Bahamas causing great damage and death. But before the hurricane hit, Chella had decided to give refuge to a large number of dogs inside her home so they could be better looked after.
It seems impossible, but in Chella's house, there are still at the moment 97 dogs, 79 of which live in the woman's bedroom!
But, as Chella Phillips told us in a post on Facebook that was quickly shared on various social media networks and platforms, now her home is no longer suitable to give space to such a large number of dogs due to over-crowding.
In fact, there is not sufficient electricity, and the first infiltrations of rainwater have begun to seep into the house.
Chella has always managed to feed the poor stray dogs, thanks to the innumerable donations of the citizens of the Bahamas.
But now, with the devastation caused by Hurricane Dorian, the 97 dogs are beginning to require a shelter more suited to their needs.
In fact, Chella is waiting for the Government of The Bahamas National Emergency Management Agency (NEMA) to find ways to save the lives of these four-legged angels.
What Chella did and continues to do is a real sacrifice that comes from the heart, a big heart that beats for the animals most in difficulty - the very ones that need the most care and a lot of love.