While taking a walk, a stray kitten "chooses" him as a friend and a few minutes later he decides to adopt him
Cats are very particular animals, capable of great independence but also of clear and obvious demonstrations of affection.
When cats bond with a person, they end up building a very deep connection, as if they could read the soul of their human friend.
It is no coincidence that many mysteries and many fascinating beliefs about their power to perceive and hold off negative energies gravitate around cats.
And it was probably the sixth sense of a cat that suggested to the little kitten that is the protagonist of this story that the human before it was the human of its destiny.
It all started when a boy named Kawasaki Hina was walking in a park.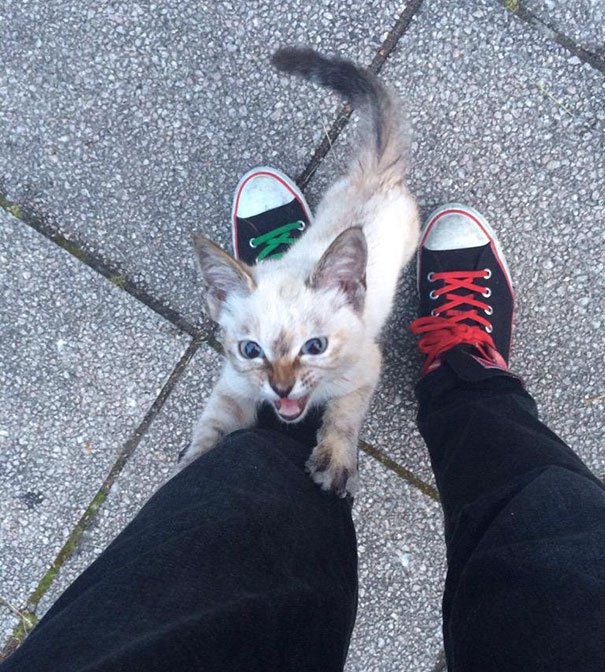 During a normal walk in a park, Hina was approached by a light blue-eyed kitten. At first, the boy thought the little kitten just wanted a little cuddling, but the little one seemed intent on not letting him go. In the video below we can see this and clearly understand ...
Consequently, before he even knew it, Hina was already looking for a box to take the fluffy ball of fur home.
After a quick check-up at the veterinarian clinic, the kitten, a female, arrived at Hina's house, and half an hour later she was already completely at ease. She immediately took a nap on her new dad's legs!
Seeing that the cat seemed totally at home, and had not given any signs of wanting to escape or leave, Hina did not have any more doubts! It was clear that the little creature would stay and continue to live with him ... now they were a new and loving family!
Hina named the little kitten Vell ... and gave her the opportunity to completely settle into her new home.
A few months later, that ball of fur had blossomed into a wonderful and beautiful blue-eyed cat.
Today, Vell is two and a half years old, and she is the uncontested mistress of the house and follows every movement of her beloved human friend.
Hina is convinced that there was something, a sort of spiritual connection that made Vell choose him, and that same connection also prompted him to take her home with him without hesitation.
There are so many cats and dogs that just like Vell are just waiting for someone to give them love ... What do you think of imitating this beautiful story, too? :-)))