Having lived years locked up in a cage, now this female cat cannot stop embracing her new "mother"
The expression "cats have nine lives" is not just a way of saying that cats can escape danger, fall unharmed from great heights or survive accidents.
Fortunately, these mysterious and remarkable creatures are also able to miraculously recover from even much less favorable circumstances.
In fact, although cats are all too often the victims of mistreatment, they still manage to overcome traumatic situations that would make anyone hostile and aggressive, while still preserving their innocence and innate sweetness.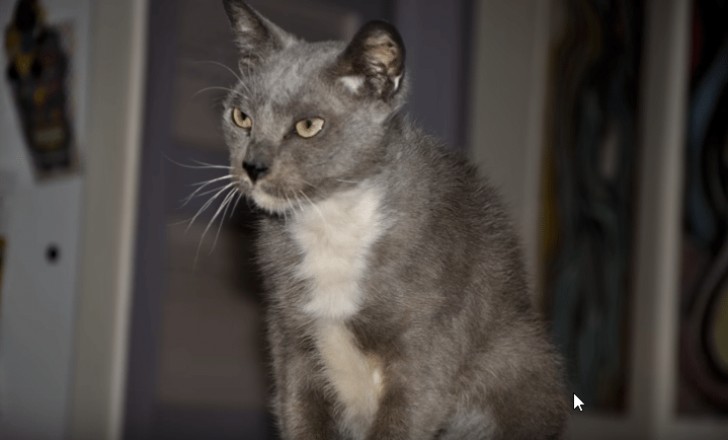 Today's story seems made to substantiate the proverbial immortality of cats. The protagonist is called Lovebug, who for at least "three of her seven lives", was forced to live, locked up in a cage.
Her first owner was a woman with mental disorders, who unfortunately could not take care of her in the most appropriate way.
As a result, the poor cat was raised just like an animal in a zoo, in a way that was light years away from what is normal for a member of her species.
In fact, cats need to live free, adopt the natural and typical behaviors of domestic cats, and satisfy stimuli that, if repressed, can negatively affect their mental and physical health.
Among these natural behaviors, for example, is the need to explore or hide when they feel threatened or vulnerable.
Fortunately, Lovebug was freed by the Furry Nation Salvation animal association and entrusted to the care of a new adoptive mother named Patty.
At the time, it was estimated that the cat could be between 3 and 5 years old, and it is not known how long it was kept as a "prisoner".
Such an experience could have turned Lovebug into a frightened, mistrusting, and highly aggressive animal, but despite everything that she must have been through, her reaction was incredible.
As a matter of fact, the sweet kitty seemed to have been only waiting for the opportunity to express love and gratitude.
Where previously, Lovebug's wounds had been clearly visible, now a thick coat of soft and shiny fur has grown back, just as the wounds in her tender heart have also healed.
A photo gallery of images and a video about Lovebug have been posted on the Internet and they serve as testimonies of Lovebug's heartfelt gratitude.
In the video, which has received nearly 180,000 shares, it is possible to see the beautiful cat purring and cuddling with her young owner as if to make up for the lost time.
This is the demonstration of how much, unsuspected love and affection, a pet can give, especially one that has been gifted a second chance at life.
The next time you think about adopting a pet, it is better to go and get one from an animal shelter, because surely you will never regret having done so.