A boy taunted due to a physical deformation finally has a life-changing operation and here are his first steps
In a world where it seems like the number of people who are less fortunate than us is increasing, the gift of philanthropy is paradoxically becoming increasingly rare.
It is, therefore, no coincidence that frequently the people who inaugurate important charity programs are often well-known personalities in the world of entertainment or sports, who are capable of waking up collective consciences in regards to the different contexts and situations that afflict the most disadvantaged individuals.
The following is the true story of little Aldrin, that indeed, moved the heart of Tim Tebow, a famous American NFL athlete.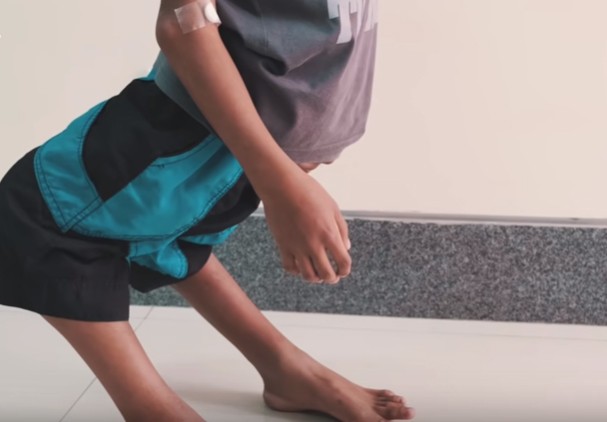 Originally from the Philippines, where his Baptist parents had carried out missionary activities for 30 years, Tim Tebow founded the Tebow Foundation for the people in need of medical care but who, due to living in a state of extreme poverty, cannot afford to pay their medical bills.
This decision derives from an encounter that Tim had in the past, in the Philippines, with a teenager named Sherwin, suffering from a severe genetic malformation of his legs.

When one day, the 11-year-old Aldrin entered the Tebow CURE hospital in the Philippines, the past came back to Tim, who decided to take the youngster's complex situation to heart.
Aldrin suffered from a complicated congenital dislocation of the knees that brought his legs closer to the shape of a "flamingo" bird, which is why many of his schoolmates teased him frequently; when Tim heard Aldrin's sad story he decided to do something immediately.
After a delicate surgical operation carried out by a specialized hospital team and that lasted four hours, Aldrin underwent a gradual transformation that also unexpectedly improved his congenital conditions which had caused him a great deal of pain and suffering in previous years.
Sometimes, it is precisely the gestures of philanthropy that can change the world, and the story of friendship that has developed between Aldrin and Tim Tebow seems like a beautiful fairy tale complete with a happy ending!